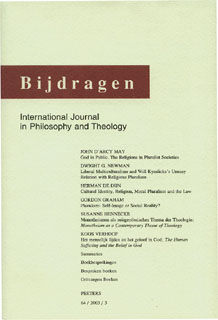 Document Details :

Title: Wissenschaftlichkeit der Theologie und Autoritätsanspruch der Kirche
Author(s): SUTER, Adrian
Journal: Bijdragen
Volume: 68 Issue: 2 Date: 2007
Pages: 198-225
DOI: 10.2143/BIJ.68.2.2021821

Abstract :
The author examines the role the teaching of authoritative church bodies can or should play in academic theology, taking into account that theology claims conformity with epistemological standards. First, he analyses different forms of authority – non-formal, formal and constitutional, as well as epistemic and deontological. Secondly, he focuses on the subject of theology understood as the relationship between God and humanity. Theology has a threefold approach in the way it studies this relationship. The starting point of theology is the human manifestations of faith (descriptive and explanatory approach). However, unlike a non-theological approach of religious studies, theology seeks the revelation of the Word of God behind these manifestations (speculative approach). Divine revelation can then become a criterion by which to judge whether such human manifestations of faith correspond to the Word of God (normative and criteriological approach). In the third part the author analyses the relationship between authority and theology.Teaching by constitutional church authorities is itself a human manifestation of faith and thus theologically relevant for the descriptive and explanatory approach. However, such teaching can come into tension with other manifestations of faith, and academic theology cannot accept its authoritative status as a criterion of truth. Within the speculative approach, theology may consider other manifestations of faith as more relevant to its task. Pursuing the normative and criteriological approach, theology will come to criticise certain human religious practice, including the teaching of church authorities, and may legitimately do so. Since, however, the two other approaches depend on the descriptive and explanatory approach, theology cannot simply ignore the teaching of church authorities, rather it must recognise it as a relevant aspect of its research.