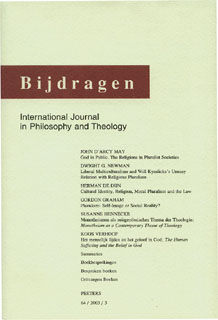 Document Details :

Title: The Difficulty of Prayer
Subtitle: An Investigation into the Spiritual Theology of Rahner
Author(s): MOONS, Jos
Journal: Bijdragen
Volume: 68 Issue: 2 Date: 2007
Pages: 163-184
DOI: 10.2143/BIJ.68.2.2021819

Abstract :
This article focuses on three questions. First it tries to understand why the difficulty man experiences when he is praying, is an inherent part of prayer. Everyone who prays, will experience that God is intangible. Rahner's analysis of the human transcendental experience is a help in understanding this experience. Rahner shows that humans, by interacting in the concrete world, are capable of going beyond it. In deeds of for example love, freedom, wisdom one transcends concrete existence, and experiences to be finitum capax infiniti. Yet, this possibility implies a very particular tension: man is naturally inclined to a transcendental reality but will never be able to fully capture it. Limiting oneself to concrete existence will be unsatisfying. Avoiding concrete existence will not work neither, for the transcendental experience only exists if linked to the tangible life we live here and now. Transcendental theology explains that living with this difficult but at the same time necessary tension between transcendental and categorical is the conditio sine qua non for meeting God.This means that, if prayer is such a meeting with God, it will always have an element of difficulty in it. He who prays, knows this. By subject and content this article is at the junction of philosophy, theology and spiritually. The author argues that this is necessary as Rahner's transcendental theology is based on spirituality, a view shared by others, but which, in the opinion of the writer, is lacking in most of the secondary literature. Finally the author is of the opinion that aforementioned approach should not be limited to Rahner's work. Should, out of contextual, theological as well as strategic reasons, contemporary theology not pay more attention to spirituality?