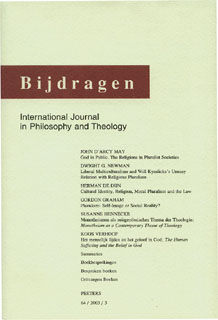 Document Details :

Title: Richard Hooker zur Frage nach der normativen Signifikanz des modernen Gewissens
Author(s): BREITSAMETER, Christof
Journal: Bijdragen
Volume: 68 Issue: 2 Date: 2007
Pages: 148-161
DOI: 10.2143/BIJ.68.2.2021818

Abstract :
Richard Hookers starting point was the question of a new social order, the establishment of which long seemed necessary as a result of the various confessional splits and formation of nation states occurring prior to and during his lifetime. His thoughts on these matters were decisively influenced by one particular political occurrence, one that had important consequences for the formation of modern democracy, the Dutch revolution. So Hooker discusses the normative foundations of society. Each person has the right of freedom of conscience and as a necessary consequence must respect the differing beliefs of others. It is not a question here of simply affirming the existing principle of freedom of religion, but much more a matter of shaping the principle into an enforceable right. This position was complemented by the state guaranteed rights of freedom of assembly and freedom of expression. Criticism of the puritans and of Catholicism expressed in defence of the Anglican church and for the maintenance of the political status quo is thus combined with the fundamental question of the normative basis of modern democracy. The question arising for Hooker from this analysis of the scholastic and puritanical positions is: what may be viewed as law and where does law find it justification? What may the legislature decide upon and what are the boundaries of its application? For Hooker the emphasis of moral theoretical observation has been shifted from behaviour itself to the rules underlying behaviour. With the transition, it is these rules that have been placed under systematic scrutiny and for which justification has been sought. The question is: where do these rules find their justification and what underpins their binding nature? The significance and importance of Hooker's new approach is to be found in the question of the specific function of law and state in light of two facts. Firstly, that it is now possible to question the normative function of values and secondly, that rules may be laid down through the machinery of politics.