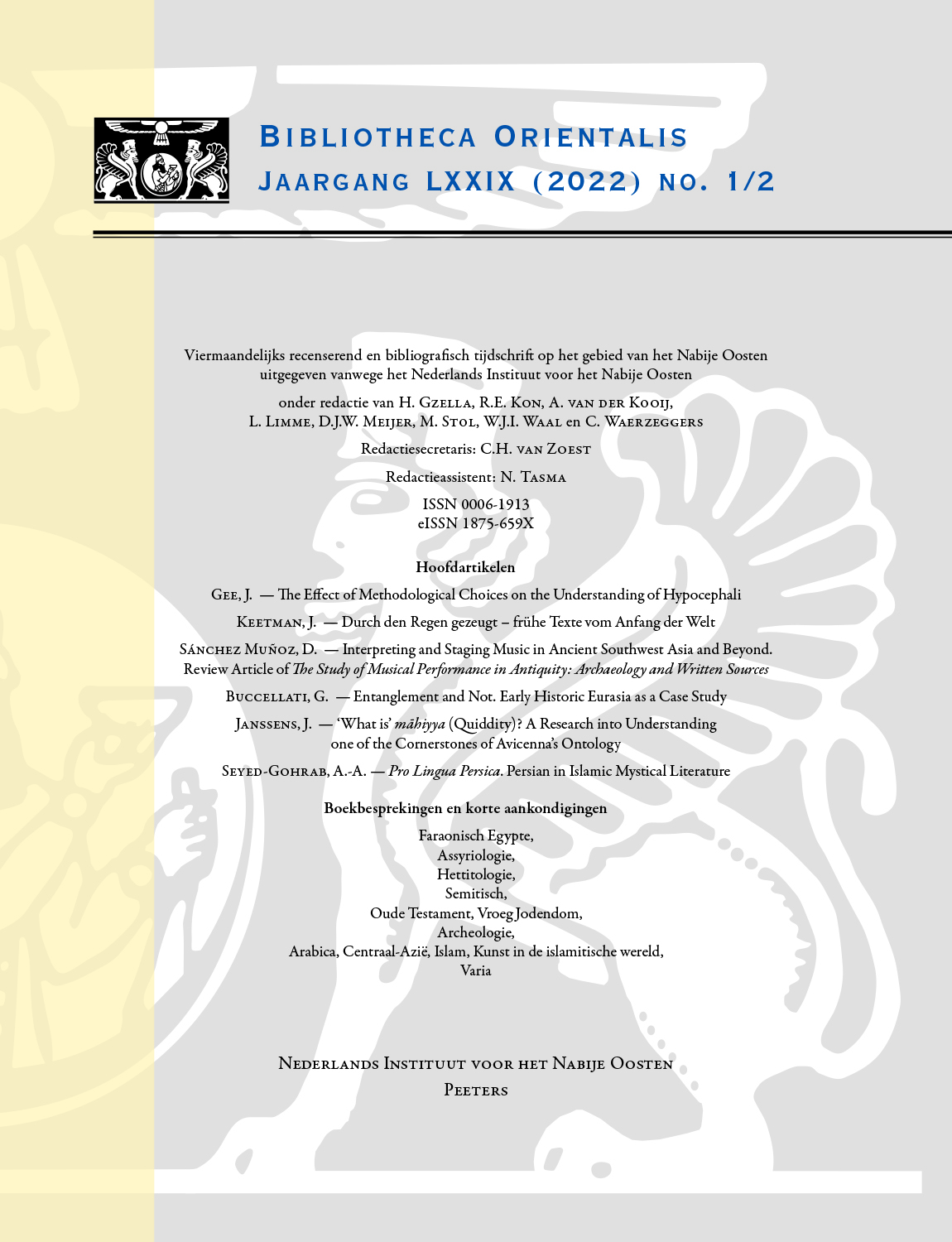 Document Details :

Title: Archeologie
Author(s):
Journal: Bibliotheca Orientalis
Volume: 63 Issue: 5-6 Date: september - december 2006
Pages: 588-615
DOI: 10.2143/BIOR.63.5.2021773

Abstract :
STONE, E.C. and ZIMANSKY, P. - The Anatomy of a Mesopotamian City: Survey and Soundings at Mashkan-shapir. Eisenbrauns, Winona Lake, 2004.

DÜRING, B.S. - Constructing Communities. Clustered Neighbourhood Settlements of the Central Anatolian Neolithic ca. 8500 - 5500 Cal. BC. Nederlands Instituut voor het Nabije Oosten, Leiden, 2006.

POTTS, D.T. - Ancient Magan. The Secrets of Tell Abraq. Trident Press Ltd., London, 1999.

KERNER, S. - Das Chalcolithikum in der südlichen Levante. Die Entwicklung handwerklicher Spezialisierung und ihre Beziehung zu Gesellschaftlicher Komplexität. Verlag Marie Leidorf, Rahden/Westf., 2001.

VAN DER STEEN, E.J. - Tibes and Territories in Transition. The central east Jordan Valley in the Late Bronze Age and early Iron Ages: a study of the sources. (Orientalia Lovaniensia Analecta, 130). Editions Peeters, Leuven, 2004.

BAGATTI, B. - Excavations in Nazareth Vol. II: From the 12th Century until Today. Franciscan Printing Press, Jerusalem, 2002.

WILDE, H. - Technologische Innovationen im zweiten Jahrtausend vor Christus. Zur Verwendung und Verbreitung neuer Werkstoffe im ostmediterranen Raum. (Göttinger Orientforschungen IV. Reihe Ägypten 44). Verlag Otto Harrassowitz, Wiesbaden, 2003.

TODD, I.A. and CROFT, P. - Vasilikos Valley Project 8: Excavations at Kalavasos-Ayious. (Studies in Mediterranean Archaeology Vol. LXXI, 8). Paul Åströms Förlag, Sävedalen, 2004.

TODD, I.A. - Vasilikos Valley Project 9: The Field Survey of the Vasilikos Valley. Volume I. (Studies in Mediterranean Archaeology Vol. LXXI, 9, vol. 1). Paul Åströms Förlag, Sävedalen, 2004.

KESWANI, P. - Mortuary Ritual and Society in Bronze Age Cyprus. (Monographs in Mediterranean Archaeology). Equinox Publishing Limited, 2004.


Download article