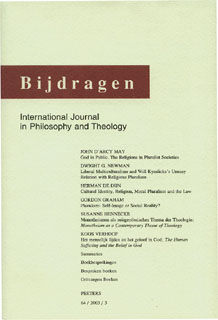 Document Details :

Title: God een parasitie in de hersenen? - Notitie
Subtitle: God a parasite in the Brain?
Author(s): DE DIJN, Herman
Journal: Bijdragen
Volume: 67 Issue: 4 Date: 2006
Pages: 446-457
DOI: 10.2143/BIJ.67.4.2017995

Abstract :
Critical Study of Daniel Dennetts Breaking the Spell: Religion as a Natural Phenomenon. Dennets book has a double aim. The first is to defend and advocate more scientific research in religion(s) in the hope that this will induce scepticism into believers and perhaps turn them away from religion. The second is to survey existing theories about religion as a natural phenomenon and to propose a research programme for furthering scientific understanding of it.
The anti-religious plea is rather tedious and probably counterproductive. The status quaestionis of existing 'theories' is much more interesting and nuanced. Dennett even claims that human sciences such as sociology, anthropology and history will have to play an essential part in our understanding of religions and their development.
Dennetts rather cognitivist interpretation of religion prevents him from pursuing some interesting ideas and comparisons concerning religion and other spheres of human interest.