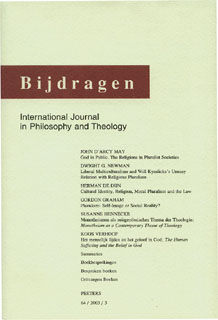 Document Details :

Title: Longing for Authenticity
Subtitle: Religious Transformations in Late Modern Europe
Author(s): JESPERS, Frans P.M.
Journal: Bijdragen
Volume: 67 Issue: 4 Date: 2006
Pages: 369-390
DOI: 10.2143/BIJ.67.4.2017992

Abstract :
In the second half of the twentieth century, the influence of religion in Western Europe on the cultural, institutional and personal level diminished quite rapidly from dominant Christian churches into a diffuse mix of humanism and spirituality. Although religions are changing, there are good reasons to stick to the sacred, the divine, or the transcendent as the core of religion.
In that case, the transformation of religion just mentioned seems to be neither a resacralization, nor a postmodernization, but rather a re-emotionalization (see P. Heelas & L. Woodhead). The philosophy of culture of Ch. Taylor proposes authenticity, in the sense of self-fulfilment, as the central motive for this transformation. I argue, however, that his view is too rational and idealistic, and benefits from an adjustment of the philosophy of A. Ferrara. Ferrara's analysis of authenticity is more attentive to aspects of vitality and resignation, which support the theory of re-emotionalization.