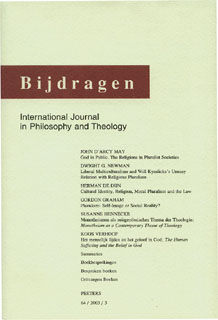 Document Details :

Title: John Milbank en de terugkeer van het grote Christelijke verhaal - John Milbank and the Return of the Christian Master-narrative
Subtitle: (Post)moderniteit onder theologische kritiek - (Post)modernity and Theological Criticism
Author(s): JACOBS, Tom
Journal: Bijdragen
Volume: 67 Issue: 3 Date: 2006
Pages: 309-339
DOI: 10.2143/BIJ.67.3.2017728

Abstract :
In contemporary theology, the movement of Radical Orthodoxy has provoked already many 'new' debates, especially on the relation between theology and (leftfield) politics, the usefulness of postmodern philosophy, interpretations of secularity and the necessity of ontological reflections within theology. In this article I focus on the thought of John Milbank, whose philosophy and theology can be understood as the backbone of this movement, this in order to clear out some of the fundamental premises of the debate on the relation between theology and (post)modernity. In a first part, I elaborate on his reading of modernity and postmodernity as nihilistic. This is necessary in order to understand why for Milbank a Christian master-narrative should return. In the genealogy of the actual impasse, I limit myself to three core moments in history: Duns Scotus (who breaks with the scholastic synthesis and opens the gate towards modernity), Immanuel Kant (the summit of modernity) and Jean-François Lyotard (who illustrates as a postmodern Kantian the contradictory nature of postmodernity). Thereafter, I linger over Milbank's own epistemology and metaphysics. More specifically, I compare and contrast some of his ideas with the theology of George Lindbeck. Both understand theology as non-foundationalist, but where Lindbeck tries to avoid ontological claims, they clearly return in Milbank's construal. A third part is dedicated to Milbank's alternative to the postmodern ontology of violence. Shortly, I deal with his attempt to recontextualise Augustine and with why only a patristic logic can offer us the necessary resources to overcome our actual state of nihilism. After this threefold presentation, one specific idea, namely the problem of intratextuality, is used to come to a critical evaluation of his thought. Is it possible and desirable to do theology purely from within the Christian 'text'? I conclude with a more general reflection on the problem of 'tone' in philosophy and theology? What is the appropriate tone for a Christian theology, specifically in its relation towards modernity?