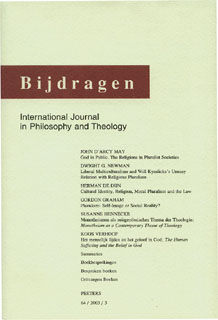 Document Details :

Title: Can Holiness be a Nota Ecclesiae?
Author(s): JENSON, Robert W.
Journal: Bijdragen
Volume: 67 Issue: 3 Date: 2006
Pages: 245-252
DOI: 10.2143/BIJ.67.3.2017725

Abstract :
Over the last years the association 'the Christian articles of faith' ('de christelijke Geloofsartikelen') in which protestant and catholic dogmatic theologians working at various Dutch universities participate has organized a autumn-conference. The theme of the 2005 conference was: the notae ecclesiae especially the holiness. One of the guest speakers was Robert Jenson, who read his paper Can holiness be a nota ecclesiae?. He starts with a critical examination of the qualifications 'proprietas' and 'nota', but the main burden of the paper is a discussion of 'holiness'. Taking his clue from the use of holy in the story of the Annunciation Jenson argues that holiness is to be understood in a Trinitarian way: 'actual holiness and the triune God are, by an extension of an ancient theological rule, the very same thing. From which it follows that creatures can be holy only by sharing the triune life.' Since the holiness of the church is the holiness of the Body of Christ, decisive for understanding the holiness of the Church is the understanding of the holiness of Christ. Instead of the traditional 'metaphysical' interpretation of Chalcedon, Jenson puts forward a 'somewhat riskier' Christology: the humanity of Christ is not just the receptacle for some created graces (e.g. holiness), but is the holiness. As with Christ the holiness of the Church is visible sub contrario.