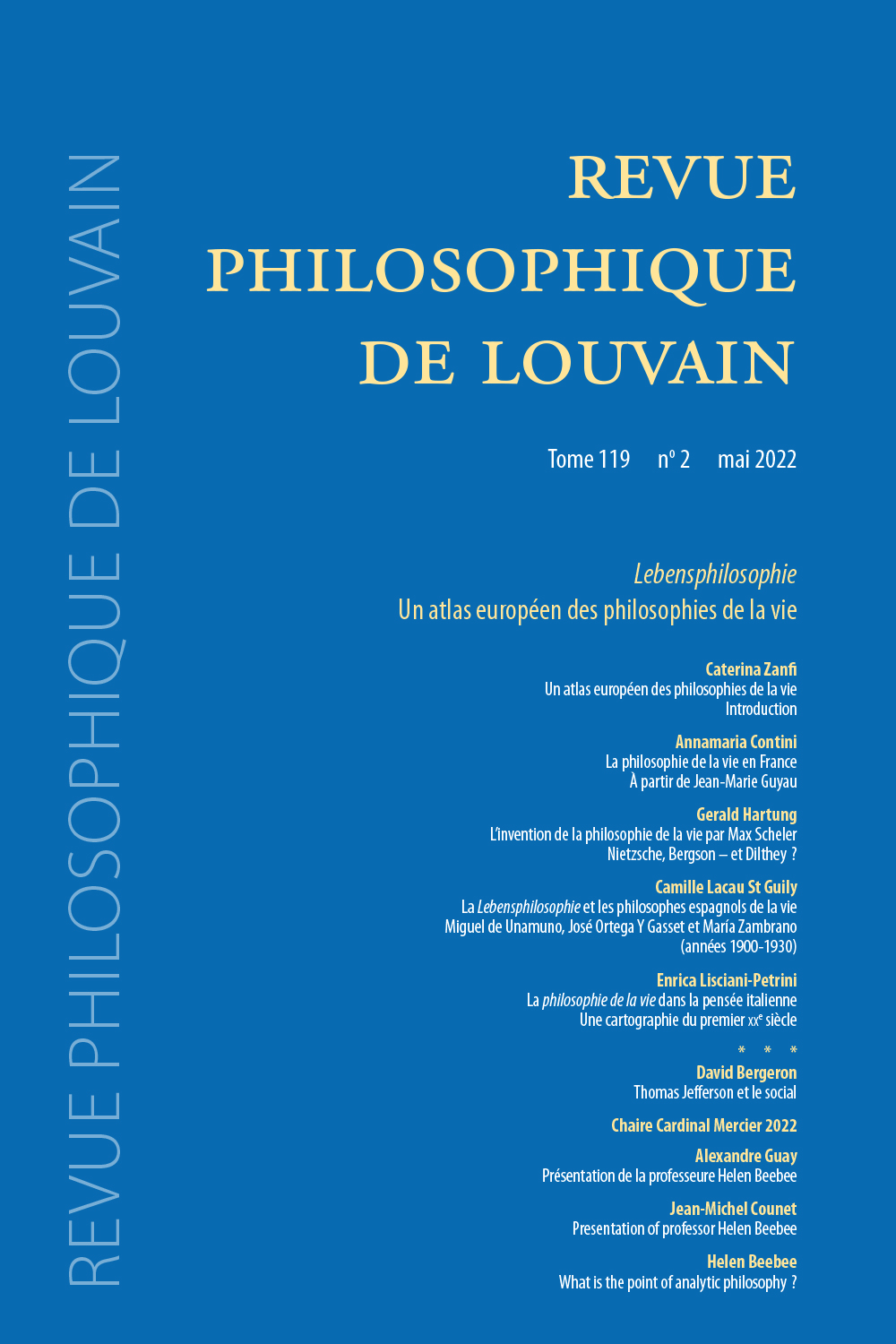 Document Details :

Title: La notion de 'subjectivité' dans la phénoménologie d'Emmanuel Lévinas
Author(s): DURANTE, Massimo
Journal: Revue Philosophique de Louvain
Volume: 104 Issue: 2 Date: mai 2006
Pages: 261-287
DOI: 10.2143/RPL.104.2.2016140

Abstract :
La subjectivité n'est pas l'attribut d'un sujet d'ores et déjà instauré, de plein droit, dans la possession des ses prérogatives mais le résultat d'une opération de constitution. Le présent article entend éclairer quelle est la norme génétique définissant la «subjectité» qui préside à la constitution de la subjectivité. Il s'agit d'une question qui investit le cœur du droit phénoménologique, car elle exige de réviser la notion d'horizon ainsi que celle de réduction. Cette révision est la conséquence majeure d'une réflexion qui se concentre autour des présupposes philosophiques du processus de la subjectivation, à savoir la conception de l'infini propre du Sollen, qui exprime la participation du réel à l'idéal et ainsi la possibilité pour la subjectivité de s'élever au rang de l'universel. L'A. entend montrer que la norme génétique présidant aux conditions constitutives de la subjectivité opère, selon Lévinas, sur le mode de la transcendance et de l'immédiateté.


---


Subjectivity is not the attribute of a subject installed here and now fully in the possession of its prerogatives, but the result of an operation of constitution. The present article seeks to clarify the genetic norm defining "subjectivity" that presides over the constitution of subjectivity. This is a question that enters into the heart of phenomenology, as it requires us to revise the notion of horizon as well as that of reduction. This revision is the major consequence of a reflection that is concentrated around the philosophical presuppositions of the process of subjectivation, namely the concept of the infinite of Sollen, which expresses the participation of the real in the ideal and thus the possibility for subjectivity to raise itself to the rank of the universal. The A. aims to show that the genetic norm presiding over the constitutive conditions of subjectivity operates, according to Levinas, by means of transcendence and of immediateness.



Download article