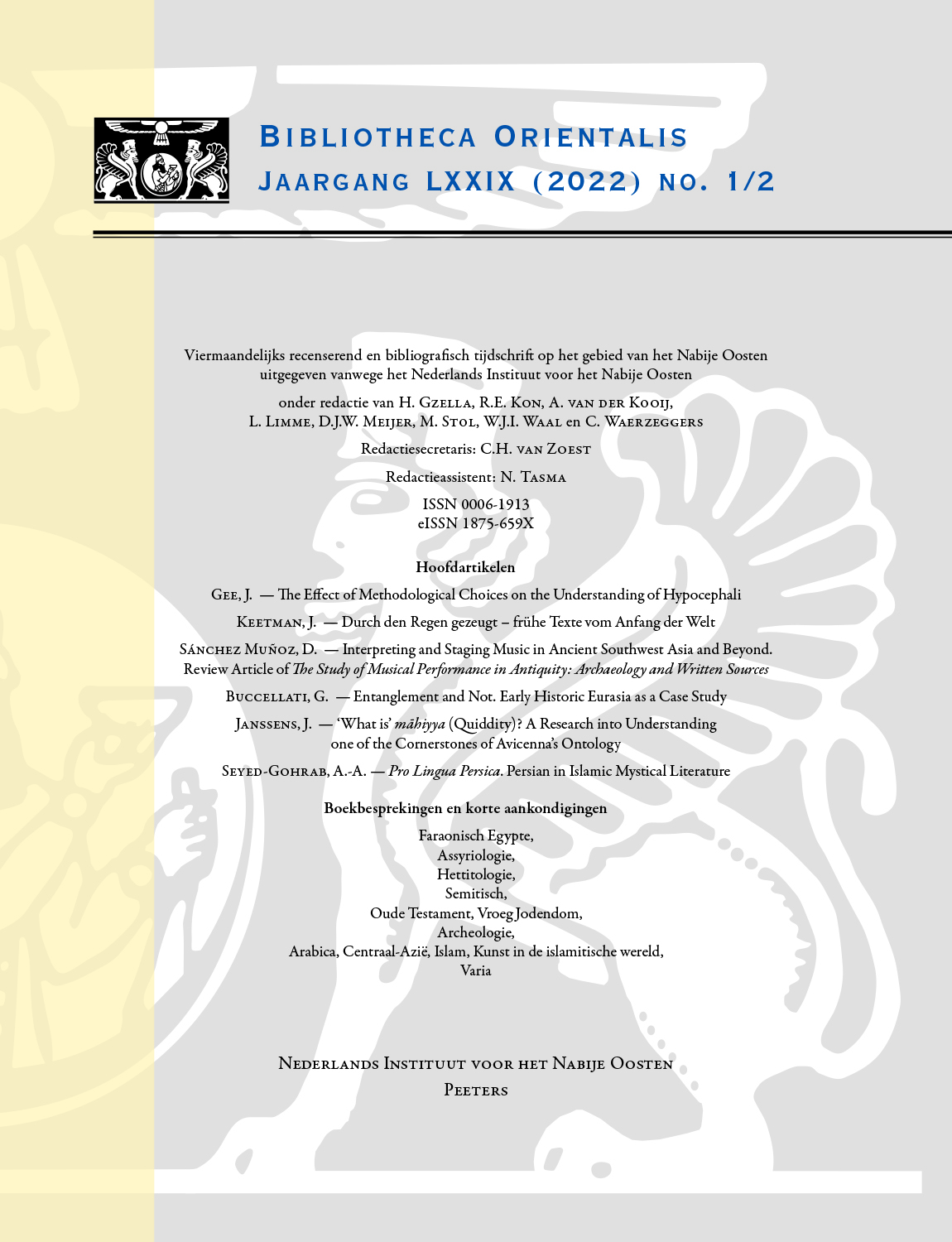 Document Details :

Title: Oude Testament en Judaica
Author(s):
Journal: Bibliotheca Orientalis
Volume: 54 Issue: 1-2 Date: januari - april 1997
Pages: 166-197
DOI: 10.2143/BIOR.54.1.2016133

Abstract :
ROHL, David M. — A Test of Time. Volume 1: The Bible — From Myth to History. Century Ltd, Random House, London, 1995.

BOORER, Suzanne — The Promise of the Land as Oath; a Key to the Formation of the Pentateuch. Beihefte zur Zeitschrift für die alttestamentliche Wissenschaft, 205. Walter de Gruyter, Berlin, 1992.

HAGELIA, Hallvard — Numbering the Stars. A Phraseological Analysis of Genesis 15. Almqvist & Wiksell International, Stockholm, Sweden, 1994 = Coniectanea Biblica. Old Testament Series 39. SEK 184.

DAVIES, Philip R. and David J.A. CLINES (eds.) — Among the Prophets; Language and Structure in the Prophetic Writings. Sheffield Academic Press, 1993.

SCHRAMM, Brooks — The Opponents of Third Isaiah: Reconstructing the Cultic History of the Restoration. (Journ. for the Study of the Old Testament, Supplement Series, 193). Sheffield Academic Press, Sheffield, 1995.

VAN LEEUWEN C. — Obadja. Uitgeverij G.F. Nijkerk, 1993 (23 cm, 115 pp.) = Prediking van het Oude Testament.

KELLY, Brian E. — Retribution and Eschatology in Chronicles. Journal for the Study of the Old Testament, Supplement Series, 211). Sheffield Academic Press, Sheffield, 1996.

BOOIJ, Th. — Psalmen. D1. III (81-110). De prediking van het Oude Testament. Callenbach, Postbus 1086, 3860 BB Nijkerk, 1994.

MATHYS, Hans-Peter — Dichter und Beter: Theologen aus spätalttestamentlicher Zeit. (Orbis Biblicus et Orientalis; 132). Universitätsverlag, Fribourg; Vandenhoeck und Ruprecht, Göttingen, 1994.

GARCÍA MARTÍNEZ, F., A. HILHORST & C.J. LABUSCHAGNE(eds.) — The Scriptures and the Scrolls. Studies in Honour of A.S. van der Woude on the Occasion of his 65th Birthday. E.J. Brill, Leiden, Holland, 1992 = Vetus Testamentum Supplements, vol. 49.

SCHAPER, Joachim — Eschatology in the Greek Psalter. Wissenschaftliche Untersuchungen zum Neuen Testament 2. Reihe 76. J.C.B. Mohr, Tübingen, 1995.

LANE, David J. — The Peshitta of Leviticus. (Monographs of the Peshitta Institute Leiden; 6). E.J. Brill, P.B. 9000, 2300 RA Leiden), 1994.

STANDHARTINGER, Angela — Das Frauenbild im Judentum der hellenistischen Zeit; ein Beitrag anhand von »Joseph und Aseneth«. Leiden, Brill, 1995.

JOSEPH's Bible Notes (Hypomnesticon), Introduction, Translation, and Notes by Robert M. Grant and Glen W. Menzies (Texts and Translations 41: Early Christian series 9), Scholars Press, Atlanta, 1996.


Download article