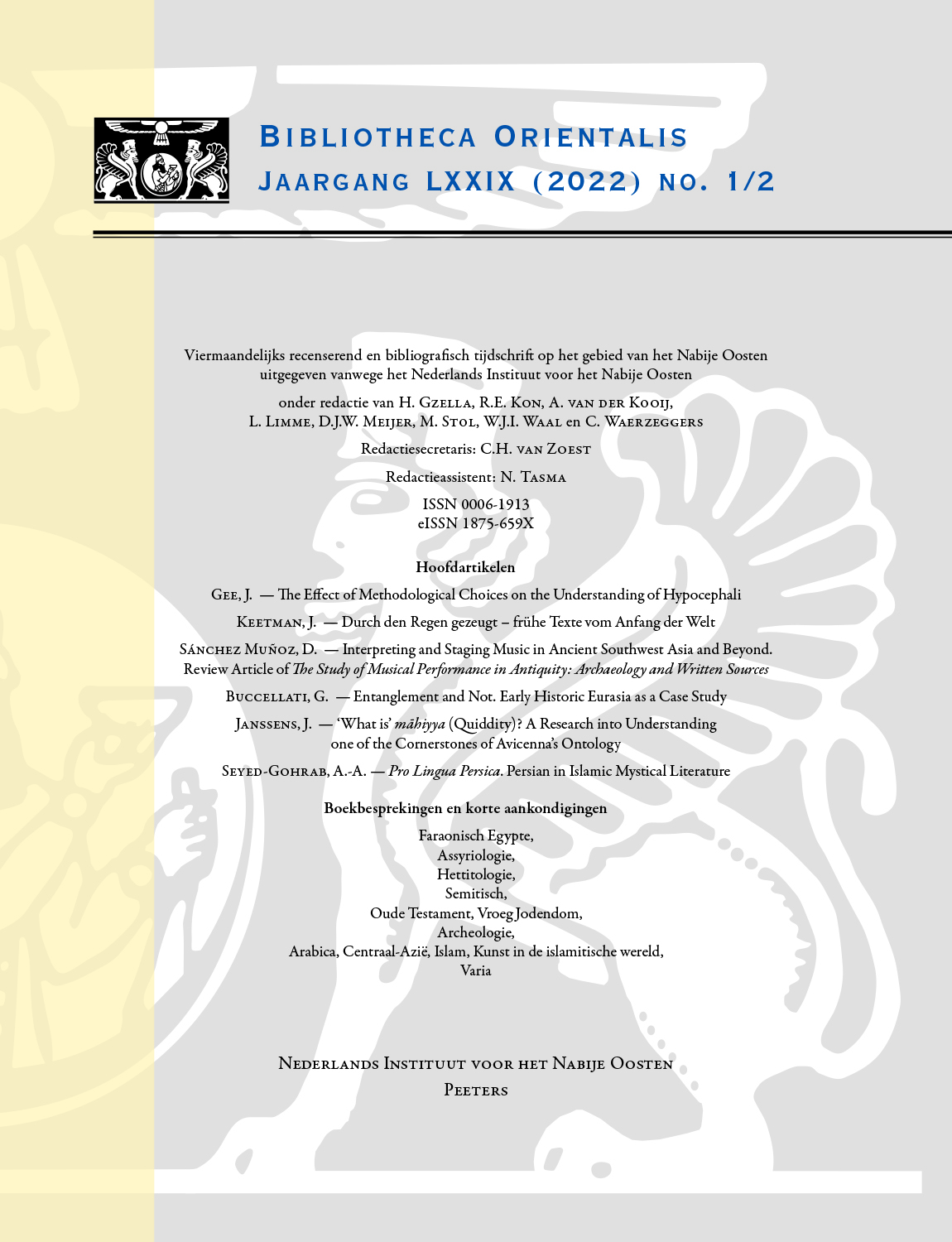 Document Details :

Title: Arabica - Islam
Author(s):
Journal: Bibliotheca Orientalis
Volume: 54 Issue: 3-4 Date: mei - augustus 1997
Pages: 494-515
DOI: 10.2143/BIOR.54.3.2015917

Abstract :
SEIDENSTICKER, Tilman — Altarabisch »Herz« und sein Wortfeld. Wiesbaden, Harrassowitz, 1992.

SCHIMMEL, Annemarie — Die Zeichen Gottes: die religiöse Welt des Islam. C.H. Beck'sche Verlagsbuchhandlung, München, 1996.

BURTON, John — The Sources of Islamic Law: Islamic Theories of Abrogation. Edinburgh University Press, 1990.

KHAN, Geoffrey (ed.) — Arabic Legal and Administrative Documents in the Cambridge Genizah Collections. Cambridge University press, 1993.

AL-GHAZÂLÎ — Invocations and Supplications (Kitâb al-adhkâr wa'l-da'awât) — Book IX of the Revival of the Religious Sciences (Iḥyâ' 'ulûm al-dîn). Translated with Introduction and Notes by K. NAKAMURA, Cambridge, The Islamic Texts Society, 1990.

SHARASTANI —Livre des religions et des sectes. II. (Leuven) Peeters/Unesco, 1993. (Collection Unesco d'œuvres représentatives. Série arbe). Trad. avec introd. et notes par Jean Jolivet et Guy Monnot.

NETTON, Ian Richard — Muslim Neoplatonists. An Introduction of the Thought of the Brethern of Purity (Ikhwân al-Ṣafā'). Edinburgh University Press 1992.

DAFTARI, Farhad (ed.) — Mediaeval Isma'ili History and Thought. Cambridge University Press, Cambridge, 1996.

AVERROISMUS im Mittelalter und in der Renaissance. Hrsg. v. Friedrich Niewöhner und Loris Sturlese. Zürich: Spur Verlag 1994.

KOMMENTAR des Averroes zu Platons Politeia. Hrsg. u. kommentiert von Erwin Isak Jacob Rosenthal. Ins Deutsche übersetzt von Simon Lauer. Mit einer Einleitung von Friedrich Niewöhner. Zürich: Spur Verlag 1996.

GRIFFITH, Sidney H. — Arabic Christianity in the Monasteries of Ninthcentury Palestine. Aldershot, Hampshire GB/Brookfield, Vermont USA, 1992.

RUPRECHTSBERGER, Erwin M. — Syrien: von den Aposteln zu den Kalifen / wissenschaftliche Leitung und Red. Erwin M. Ruprechtsberger. (Linzer Archäologische Forschungen, 21) Philipp von Zabern GmbH, Mainz am Rhein, 1993.


Download article