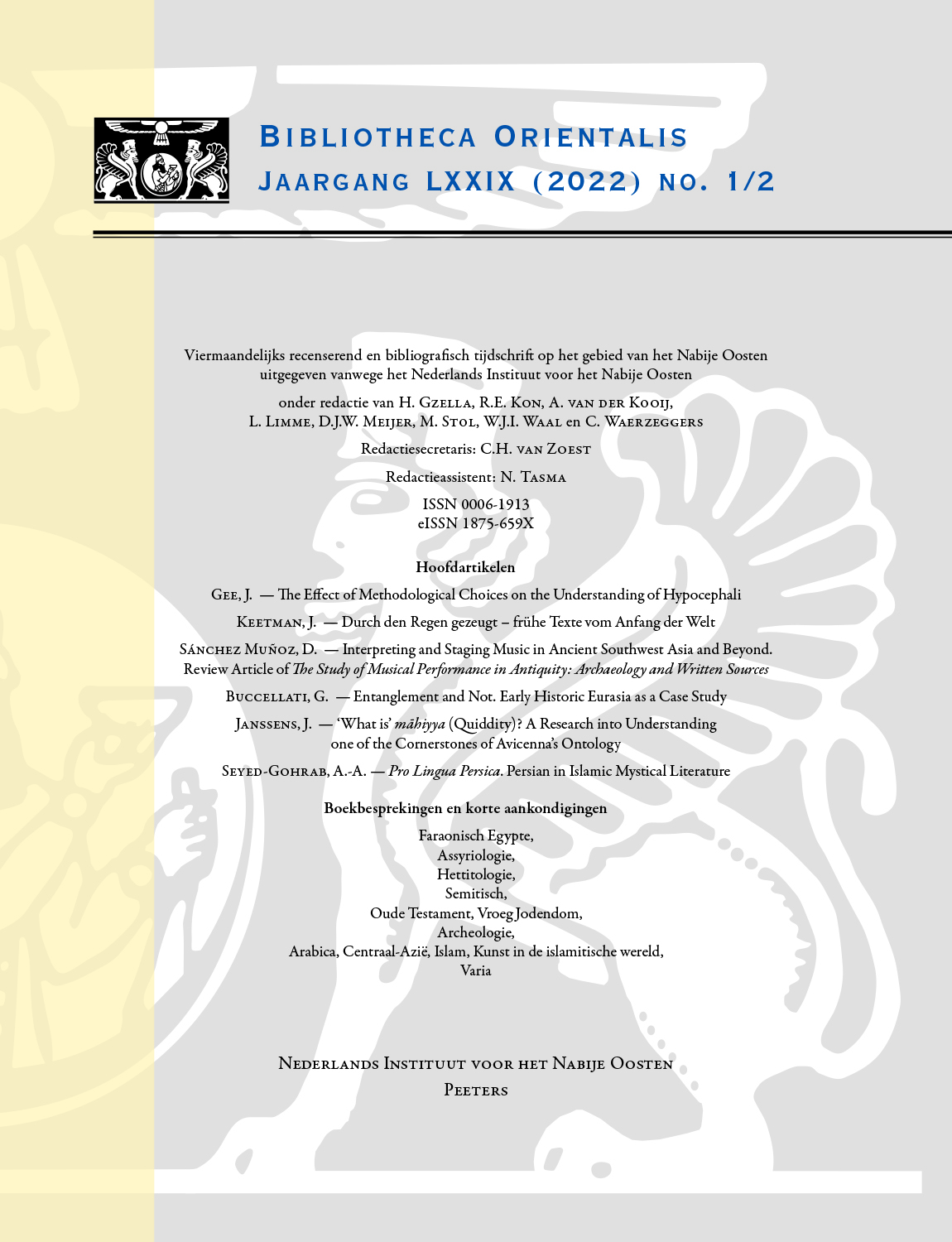 Document Details :

Title: Faraonisch Egypte
Author(s):
Journal: Bibliotheca Orientalis
Volume: 55 Issue: 3-4 Date: mei - augustus 1998
Pages: 387-426
DOI: 10.2143/BIOR.55.3.2015862

Abstract :
DAVIES, W. Vivian and Louise SCHOFIELD (eds.) — Egypt, the Aegean and the Levant: Interconnections in the Second Millennium BC. The British Museum, London, 1995.

KAMIL, Jill — The Ancient Egyptians Life in the Old Kingdom. The American University, Cairo, 1996.

MATHIEU, Bernard — La poésie amoureuse de l'Égypte ancienne. Recherches sur un genre littéraire au Nouvel Empire. (Bibliothèque d'étude 115). Institut Français, Cairo, 1996.

BRADSCHAW, Joseph — The Night Sky in Egyptian Mythology. Bradshaw, London, 1977.

HORNUNG, Erik — Altägyptische Jenseitsbücher. Primus Verlag GMBH, Darmstadt, 1997.

GINTER, Boleslaw and Janusz K. KOZLOWSKI — Predynastic Settlement near Armant / Deutsches Archäologisches Institut - Abteilung Kairo / Ägyptologisches Institut - Universität Heidelberg. (Studien zur Archäologie und Geschichte Altägyptens, 6). Heidelberger Orientverlag, Heidelberg, 1994.

SCHMITZ, Bettina (Hrsg.) — Untersuchungen zu Idu II. Giza: ein interdisziplinäres Projekt / mit Beiträgen von Renate Germer, Wolfgang Helck, Rosalind Janssen, Bettina Schmitz, Michael Schultz. (Hildesheimer Ägyptologische Beiträge, 38). Gerstenberg Verlag, Hildesheim, 1996.

PILGRIM, Cornelius von — Elephantine XVIII. Untersuchungen in der Stadt des Mittleren Reiches und der Zweiten Zwischenzeit. Philipp von Zabern GmbH, Mainz am Rhein, 1996.

SCHNEIDER, Hans Diederik — The Memphite Tomb of Horemheb, II, A Catalogue of the Finds. Sixtieth Excavation Memoir). Rijksmuseum van Oudheden, Leiden, 1996.

GAMER-WALLERT, Ingrid — Vermerk: Fundort Unbekannt. Ägyptologische Entdeckungen bei Privatsammlern in und um Stuttgart. Attempto Verlag, Tübingen, 1997.

EDER, Christian — Die ägyptischen Motive in der Glyptik des östlichen Mittelmeerraumes zu Anfang der 2. Jts. v. Chr. (Orientalia Lovaniensia Analecta, 71). Uitgeverij Peeters, Leuven, 1995.

korte aankondiging:

MALEK, Jaromir — The Cat in Ancient Egypt. British Museum Publications Ltd., London, 1997.


Download article