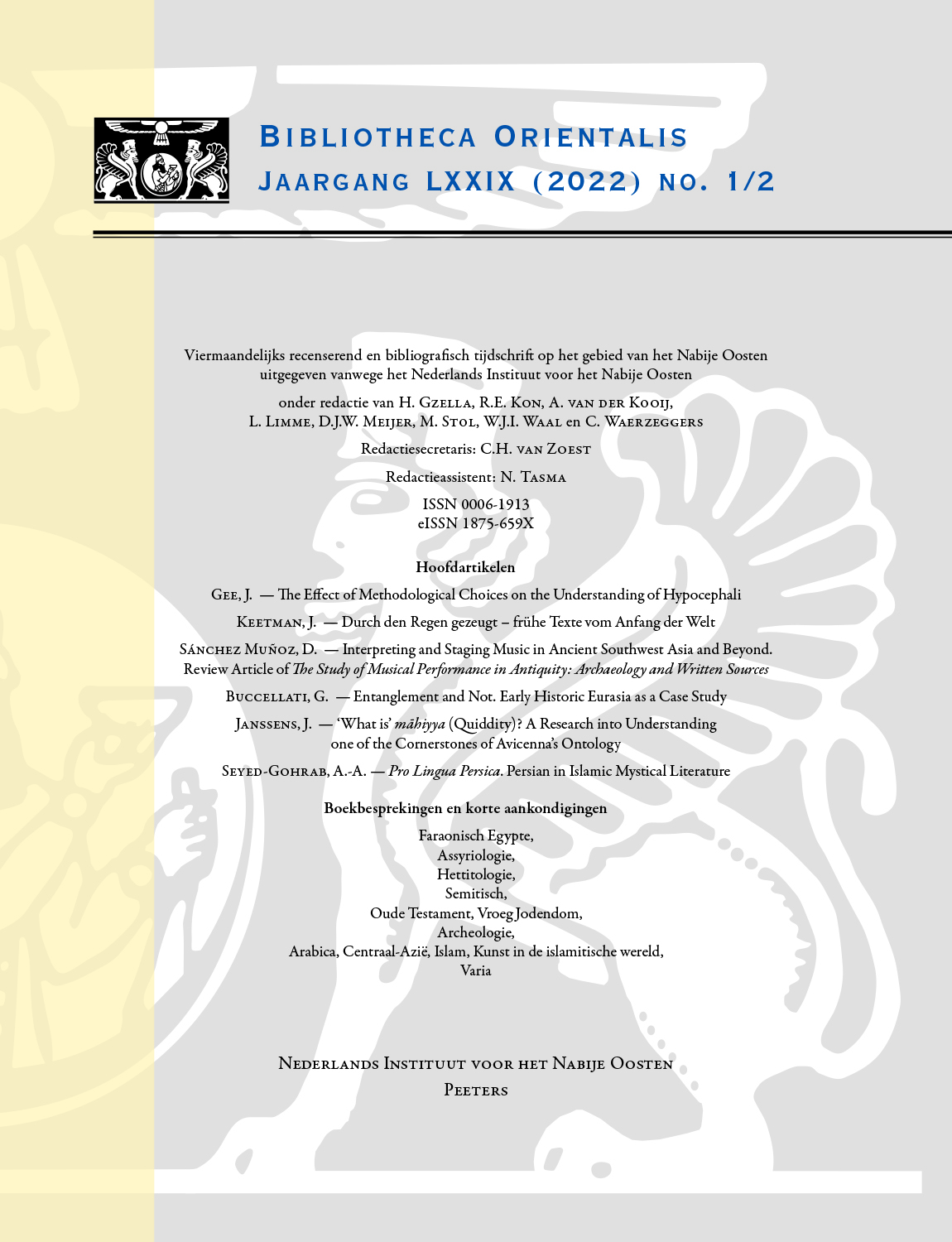 Document Details :

Title: Assyriologie
Author(s):
Journal: Bibliotheca Orientalis
Volume: 56 Issue: 5-6 Date: september - december 1999
Pages: 663-693
DOI: 10.2143/BIOR.56.5.2015837

Abstract :
FINKEL, I.L., M.J. GELLER(eds.) — Sumerian Gods and Their Representations, CM 7, Styx Publications, Groningen 1997.

HENSHAW, Richard A.— Female and Male. The Cultic Personnel.The Bible and the Rest of the Ancient Near East. (Princeton Theological Monograph Series, 31). Pickwick Publications, 1994

VEENHOF, Klaas R. — Houses and Households in Ancient Mesopotamia. Papers read at the 40th Rencontre Assyriologique Internationale, Leiden, July 5-8, 1993.

BOURZANEL, Eric, Jean-Pierre POLY (eds.)— Les féodalités. (Histoire générale des systèmes politiques).Presses Universitaires de France, Paris, 1998.

WESTENHOLZ, Joan Goodnick— Legends of the Kings of Akkade: the Texts. (Mesopotamian Civilizations, vol. 7). Eisenbrauns, Winona Lake, 1997.

DEKIERE, Luc — Old Babylonian Real Estate Documents, parts 1-6. (Mesopotamian History and Environment Texts, Vol. II). Recherches et Publications, Neuchatel, 1994-1997.

HUROWITZ, Victor Avigdor — Divine Service and its Rewards. Ideology and Poetics in the Hinke Kudurru. (BEER-SHEVA, vol. X). Ben Gurion University of the Negev, Jerusalem, 1997.

PARPOLA, Simo — Assyrian Prophecies. (State Archives of Assyria, Vol. IX). Department of Asian and African, Helsinki, 1997.

NISSINEN, Martti — References to Prophecy in Neo-Assyrian Sources. (State Archives of Assyria Studies, Vol. VII). Department of Asian and African, Helsinki, 1998.

DONBAZ, Veysel, Matthew W. STOLPER — Istanbul Murasû Texts. (PIHANS, LXXIX), Ned. Inst. v. h. Nabije Oosten, Leiden, 1997.

DURAND, Jean-Marie (éd.) — Amurru I: Mari, Ébla et les Hourrites: dix ans de travaux. Pt. I: Actes du colloque international (Paris, mai 1993) / textes réunis par — Éd. Recherche sur les Civilisations, Paris, 1996.


Download article