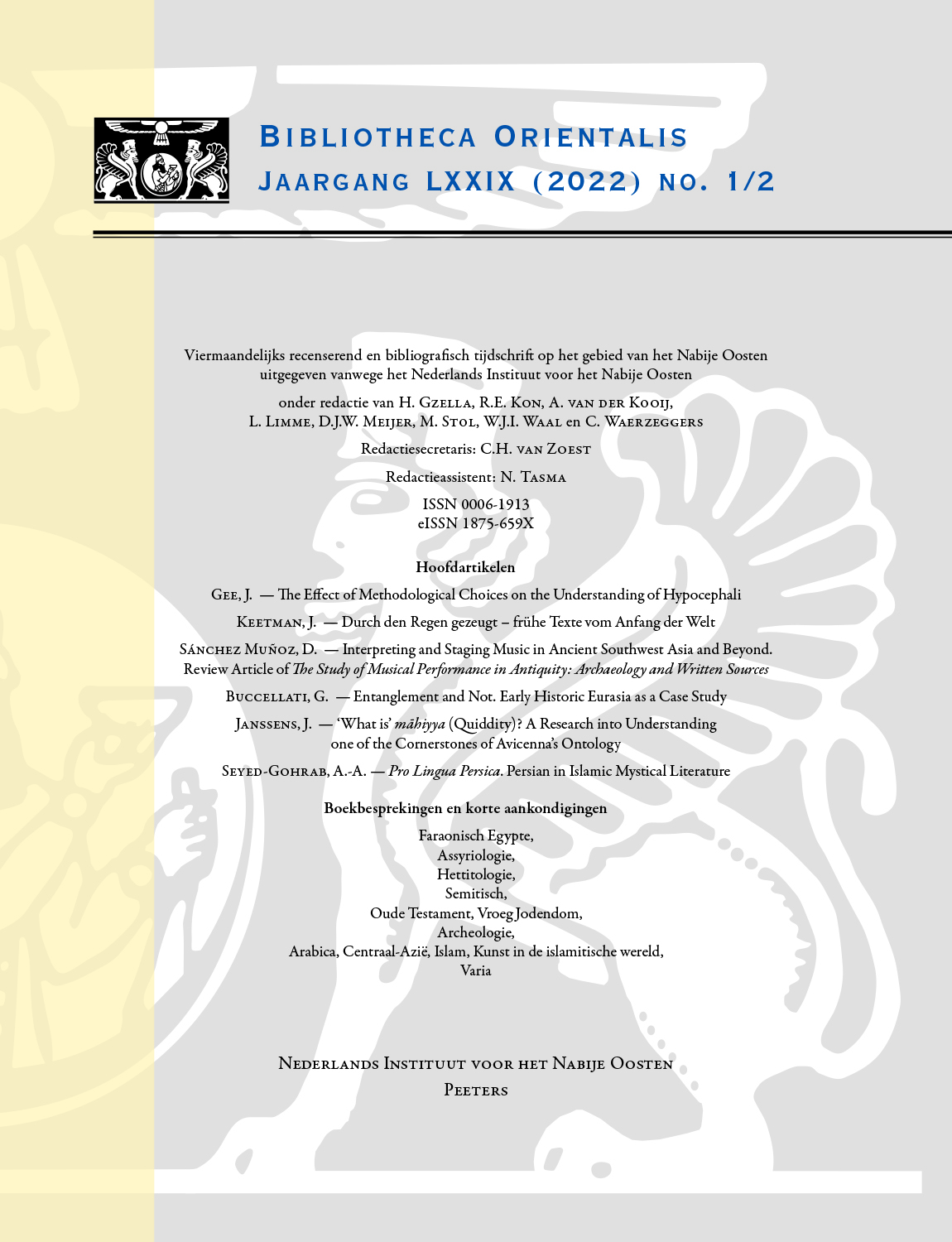 Document Details :

Title: Faraonisch Egypte
Author(s):
Journal: Bibliotheca Orientalis
Volume: 56 Issue: 5-6 Date: september - december 1999
Pages: 597-649
DOI: 10.2143/BIOR.56.5.2015834

Abstract :
MANUELIAN, Peter Der (ed.) — Studies in Honor of William Kelly Simpson. 2 vols. Museum of Fine Arts, Boston, 1996.

NEVEU, François— La langue des Ramsès: grammaire du néo-égyptien. Khéops, Paris, 1996.

THISSEN, H.J. — Der Verkommene Harfenspieler, eine alt-ägyptische Invektive (P. Wien KM 3877) (Demotische Studien, hrsgb. K.-Th. ZAUZICH). Sommerhausen, 1992.

HOFFMANN, Friedhelm (Hrsg.) — Der Kampf um den Panzer des Inaros (MPER XXVI). Brüder Hollinek & Co., Wien, 1996.

BARD, Kathryn A. — From Farmers to Pharaohs. Sheffield Academic Press, 1994.

EICHLER, Eckhard, Untersuchungen zum Expeditionswesen des ägyptischen Alten Reiches, (Göttinger Orientforschungen, IV/26). Verlag Otto Harrassowitz, Wiesbaden 1993.

FORMAN, Werner and Stephen QUIRKE — Hieroglyphs and the Afterlife in Ancient Egypt. British Museum Publications Ltd., London, 1996.

KAHL, Jochem — Steh auf, gib Horus deine Hand. (Göttinger Orientforschungen IV: 32) Verlag Otto Harrassowitz, Wiesbaden 1996.

RONSECCO, Paolo — Due libri dei morti del principio del nuovo regno il lenzuolo funerario della principessa Ahmosi e le tele del Sa-nesu Ahmosi. Catalogo del Museo Egizio di Torino, ser. prima-Monum. e testi VII Museo Egizio, Torino, 1996.

VERHOEVEN, Ursula — Das saitische Totenbuch der Iahtesnacht: P. Colon. Aeg. 10207. Bonn, Dr. Rudolph Habelt GMBH, 1993.

SPENCER, A.J. — Excavations at Tell el-Balamun 1991-1994. British Museum Press, London, 1996.

VALBELLE, D. et Ch. BONNET — Le sanctuaire d'Hathor, maîtresse de la turquoise sérabit el-khadim au Moyen Empire. Picard Éditeur, Paris, 1996.

SAADY, Hassan El — The Tomb of Amenemhab. No. 44 at Qurnah. The Tomb-chapel of a Priest carring the shire of Amun. Aris & Phillips Ltd., Warminster, 1996.

KILLEN, Geoffrey — Ancient Egyptian Furniture II: Boxes, Chests and Footstools. Aris & Phillips, Teddington House, Warminster, Wiltshire, BA12 8PQ, 1994.

korte aankondigingen:

MUNRO, Irmtraut — Die Totenbuch-Handschriften der 18. Dynastie im Ägyptischen Museum Cairo / mit einem Beitrag von Wolfgang Helck. (Ägyptologische Abhandlungen, 54). Verlag Otto Harrassowitz, Wiesbaden, 1994.

DÜRRING, Norbert — Materialien zum Schiffbau im alten Ägypten. (Abhandlungen des Deutschen Archäol. Inst. Kairo, Ägyptol. Reihe, 11) Achet Verlag, Berlin, 1995.


Download article