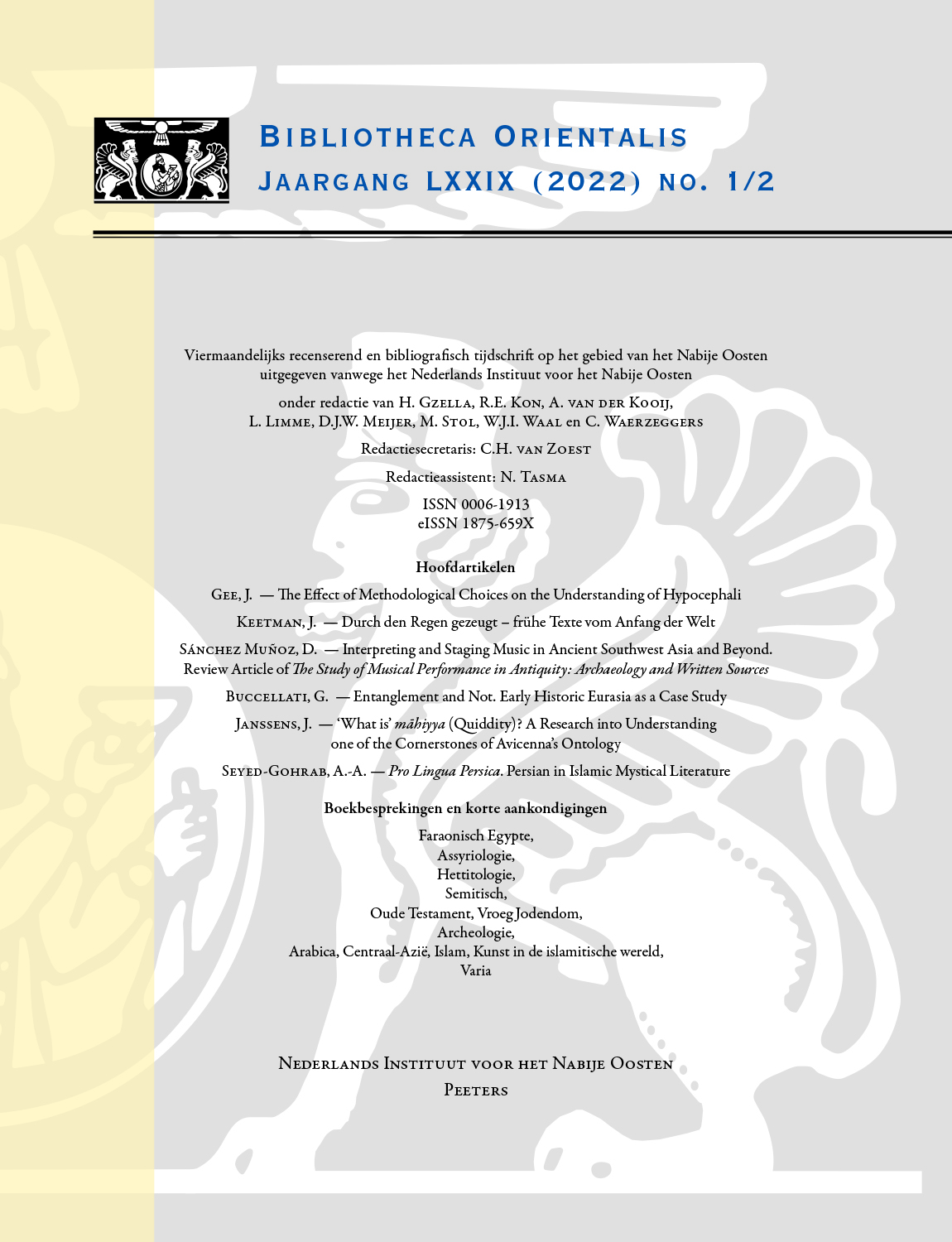 Document Details :

Title: Faraonisch Egypte
Author(s):
Journal: Bibliotheca Orientalis
Volume: 57 Issue: 5-6 Date: september - december 2000
Pages: 516-606
DOI: 10.2143/BIOR.57.5.2015787

Abstract :
BRET, Patrice — L'expédition d'Égypte, une entreprise des Lumières 1798-1801. Éditions Tec & Doc, Cachan Cedex, 1999.

CLARYSSE, W., A. SCHOORS, H. WILLEMS (eds.) — Egyptian Religion: The Last Thousand Years. Studies Dedicated to the Memory of Jan Quaegebeur. Two Parts. (Orientalia Lovaniensia Analecta, 85). Editions Peeters, Leuven, 1998.

VITTMANN, Günter — Altägyptische Wegmetaphorik. (Beiträge zur Ägyptologie, 15). AFRO Pub, Wien, 1999.

FISCHER-ELFERT, Hans-Werner — Die Lehre eines Mannes für seinen Sohn. Eine Etappe auf dem "Gottesweg" des loyalen und solidarischen Beamten des Mittleren Reiches (Ägyptologische Abhandlungen, Band 60). Verlag Otto Harrassowitz, Wiesbaden, 1999.

ZEIDLER, Jürgen — Pfortenbuchstudien. Teil I: Textkritik und Textgeschichte des Pfortenbuches. Teil II: Kritische Edition des Pfortenbuches nach den Versionen des Neuen Reiches. (Göttinger Orientforschungen, IV. Reihe Ägypten 36). Verlag Otto Harrassowitz, Wiesbaden, 1999.

GUKSCH, Heike — Königsdienst: zur Selbstdarstellung der Beamten in der 18. Dynastie / Deutsches Archäologisches Institut — Abteilung Kairo/ Ägyptologisches Institut — Universität Heidelberg. (Studien zur Archäologie und Geschichte Altägyptens, 11). Heidelberger Orientverlag, Heidelberg, 1994.

KOENIG, Yvan — Les ostraca hiératiques. Inédits de la bibliothèque nationale et universitaire de Strasbourg. Institut Français, Cairo, 1997.

WILKINSON, Toby A.H. — Early Dynastic Egypt. Routledge, London, 1999.

GILES, Frederick J. — The Amarna Age: Western Asia. (The Australian Centre for Egyptology: Studies 5). Australian Centre for Egyptology, North Ryde, 1997.

BIETAK, Manfred — Avaris: the Capital of the Hyksos. Recent Excavations at Tell el-Dab'a. British Museum Publications Ltd., London 1996.

KURTH, Dieter (Hrsg.) — Edfu: Bericht über drei Surveys; Materialien und Studien (Die Inschriften des Tempels von Edfu, Begleitheft 3). Harrassowitz Verlag, Wiesbaden, 1999.

JARITZ, Horst, Sébastian FAVRE, Giorgio NOGARA, M. RODZIEWICZ — Pelusium. (Beiträge zur Aegyptischen Bauforschung und Altertumskunde, 13). Franz Steiner Verlag, Stuttgart, 1996.

CAMINOS, Ricardo A. — Semna-Kumma I: The Temple of Semna. (Archaeoligocal Survey of Egypt, 37th Memoir). Egypt Exploration Society, London 1998.

AMER, Amin A.M.A. — The Gateway of Ramesses IX in the Temple of Amun at Karnak. Aris & Phillips Ltd., Warminster, 1999.

SMITH, W. STEVENSON — The Art and Architecture of Ancient Egypt. Yale University Press, London, 1999.

CLÈRE, Jacques Jean — Les chauves d'Hathor. Orientalia Lovaniensia Analecta, 63. Uitgeverij Peeters, Leuven, 1995.

TEISSIER, Beatrice — Egyptian Iconography on Syro-Palestinian Cylinder Seals of the Middle Bronze Age. (Orbis biblicus et orientalis, 11). University Press, Fribourg, 1996.

NUNN, John F. — Ancient Egyptian Medicine. London, British Museum Press, 1996.

DUNAND, Françoise, Roger LICHTENBERG — Les momies et la mort en Égypte. Éditions Errance, Paris, 1998.

korte aankondigingen:

JANOSI, Peter — Die Pyramidenanlagen der Königinnen: Untersuchungen zu einem Grabtyp des Alten und Mittleren Reiches / mit 17 Taf. und 86 Abb. im Text. (Untersuch. d. Zweigstelle Kairo d. Österr. Archäol. Inst., 13). Österreichische Akademie, Wien, 1996.


Download article