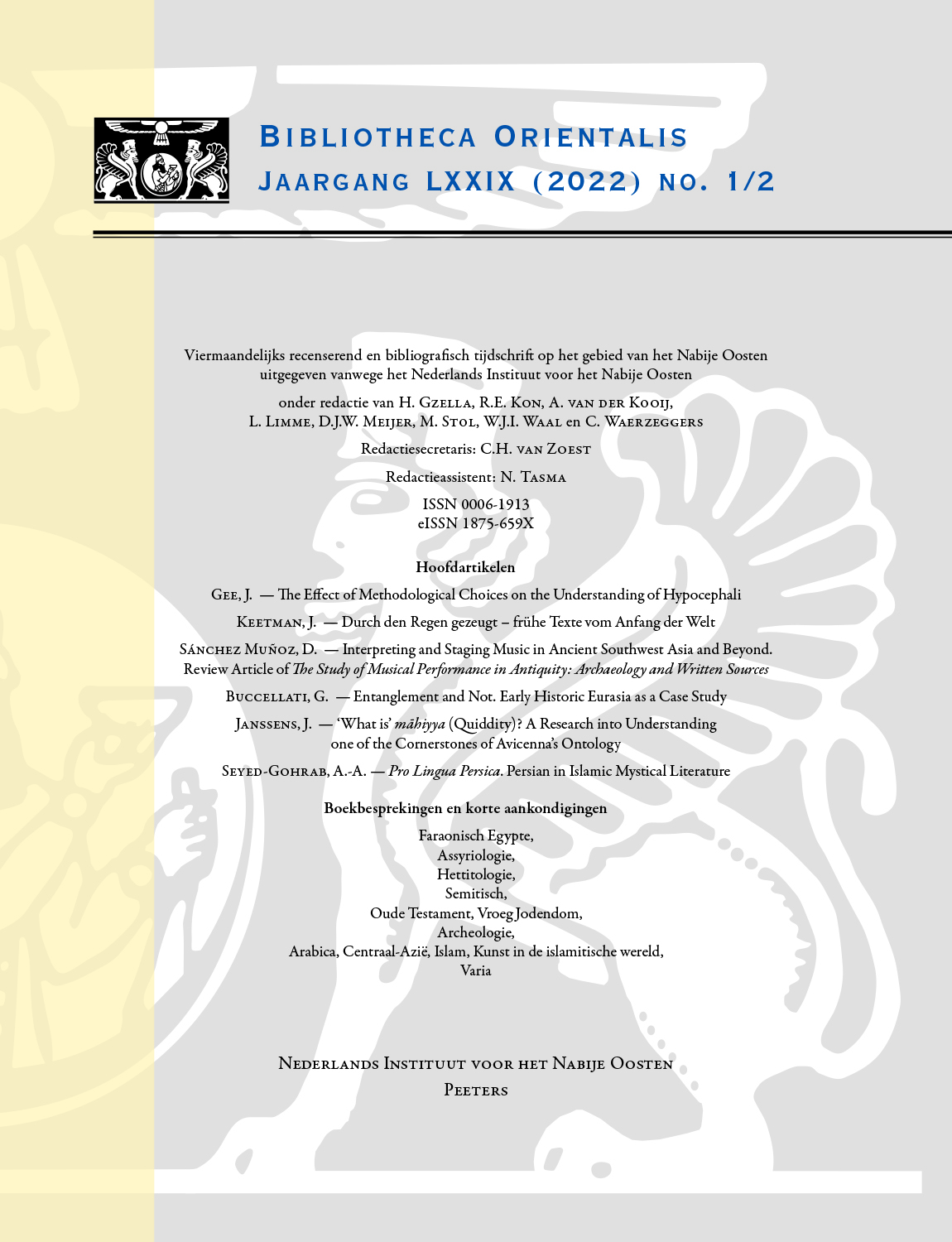 Document Details :

Title: Arabica - Islam
Author(s):
Journal: Bibliotheca Orientalis
Volume: 57 Issue: 1-2 Date: januari-april 2000
Pages: 195-225
DOI: 10.2143/BIOR.57.1.2015765

Abstract :
MACE, John — Arabic Grammar. A Reference Guide. Edinburgh University Press, Edinburgh, 1998.

BOHAS, Georges — Matrices, Étymons, Racines. Éléments d'une théorie lexicologique du vocabulaire arabe. (ORBIS Supplementa, Monographies publiées par le Centre International de Dialectologie Générale), Peeters, Leuven-Paris, 1997.

CHAIRET, Mohamed — Fonctionnement du système verbal en arabe et en français, No. special "Linguistique contrastive et traduction", Paris, Ophris, 1996.

ENDRESS, Gerhard and Dimitri GUTAS (eds.) — A Greek and Arabic Lexicon (GALex)/ Materials for a Dictionary of the Mediaeval Translations from Greek into Arabic. (Handbuch der Orientalistik 01/11/3-4) E.J. Brill Publishers N.V., Leiden, 1995 and 1997.

LEDER, Stefan (ed.), Story-telling in the Framework of Non-fictional Arabic Literature. Harrassowitz Verlag, Wiesbaden, 1998.

ROBINSON, Neal — Islam. A Concise Introduction. Curzon, Surrey, 1998.

KINBERG, Naphtali — A Lexicon of al-Farra}'s Terminology in his Qur}an Commentary: with full Definitions, English Summaries and Extensive Citations. (Handbuch der Orientalistik, 1. Abt., Bd. 23). E.J. Brill Publishers N.V., Leiden, 1996.

BLAIR, Sheila S. — Islamic Inscriptions. Edinburgh University Press, Edinburgh, 1998.

al-MASSRI, Angelika, — Göttliche Vollkommenheit und die Stellung des Menschen. (Abhandlungen für die Kunde des Morgenlandes, LII, 2). Franz Steiner Verlag, Stuttgart, 1998.

LIVNE-KAFRI, Ofer — Fada}il Bayt al-Maqdis wa-al-Khalil wa-Fada'il al-Sham. — by Abu al-Ma}ali al-Musharraf b. al-Murajja b. Ibrahim al-Maqdisi / ed. with an introd. by —. Almashreq - Publishing House, Alwafar-Shfaram — 20200, 1995.

GERBER, Haim — Islamic Law and Culture, 1600-1840. (Studies in Islamic Law and Society, Vol. 9). E.J. Brill Publishers N.V., Leiden, 1999.

CHOUDHURY, M.A. — Reforming the Muslim World. Kegan Paul International, London, 1998.

WHEATCROFT, Andrew — The Life and Times of Shaikh Salman Bin Hamad Al-Khalifa: Ruler of Bahrain 1942-1961. Kegan Paul International, London, 1995.


Download article