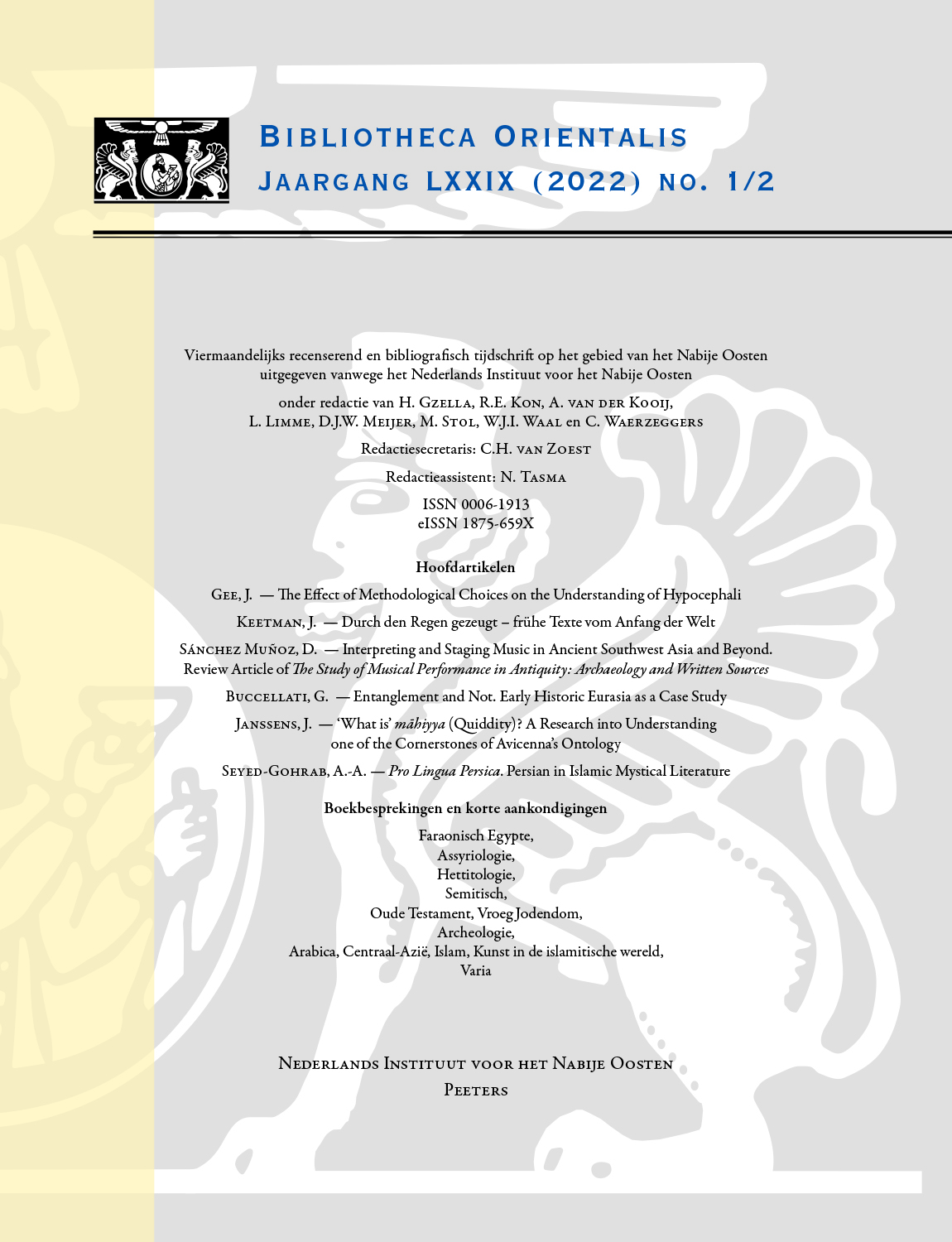 Document Details :

Title: Arabica
Author(s):
Journal: Bibliotheca Orientalis
Volume: 58 Issue: 1-2 Date: januari - april 2001
Pages: 251-284
DOI: 10.2143/BIOR.58.1.2015717

Abstract :
MOOREN, Thomas — Es gibt keinen Gott — außer Gott. Der Islam in der Welt der Religionen. Würzburg 1996.

STROUMSA, Sarah — Freethinkers of Medieval Islam. Ibn al-Rāwandī, Abū Bakr al-Rāzī, and Their Impact on Islamic Thought (Islamic Philosophy, Theology and Science, XXXV). E.J. Brill Publishers N.V., Leiden, 1999.

KNYSH, Alexander — Islamic Mysticism. A Short History. (Themes in Islamic Studies, 1). E.J. Brill Publishers N.V., Leiden, 2000.

DAFTARY, F. (ed.) — Intellectual Traditions in Islam. I.B. Tauris, London, 2000.

MADELUNG, W. & P. E. WALKER. — The Advent of the Fatimids. A Contemporary Shi'i Witness. An Edition and English Translation of Ibn al-Haytham's Kitāb al-Munāẓarāt (The Institute of Ismaili Studies. Ismaili Texts and Translations Series, 1). I. B. Tauris in association with The Institute of Ismaili Studies, London, 2000.

BOBZIN, Hartmut — Der Koran im Zeitalter der Reformation: Studien zur frühgeschichte der Arabistik und Islamkunde in Europa. (Beiruter Texte und Studien 42). Franz Steiner Verlag, Stuttgart, 1995.

ULLMANN, Manfred — Der Neger in der Bildsprache der arabischen Dichter. Verlag Otto Harrassowitz, Wiesbaden, 1999.

FENTON, Paul B. — Philosophie & exégèse dans Le Jardin de la métaphore de Moïse Ibn Ezra, philosophe & poète andalou du XIIe siècle. (Études sur le judaïsme médiéval t. 19). Leiden, New York, Köln, Brill 1996.

KAPPLER, René (transl.) — Riccold de Monte Croce. Pérégrination en Terre Sainte et au Proche Orient. (Texte latin et traduction); Lettres sur la chute de Saint-Jean d'Acre (traduction). Textes et traductions des Classiques Français du Moyen Âge N° 4. Éditions Honoré Champion, Paris, 1997.

ZAHLAN, A.B. (ed.) — The Reconstruction of Palestine; Urban and Rural Development. Kegan Paul International, London 1997.

KRAMER, Martin (ed.) — Middle Eastern Lectures, 2). Moshe Dayan Center, Tel Aviv, 1997.



Download article