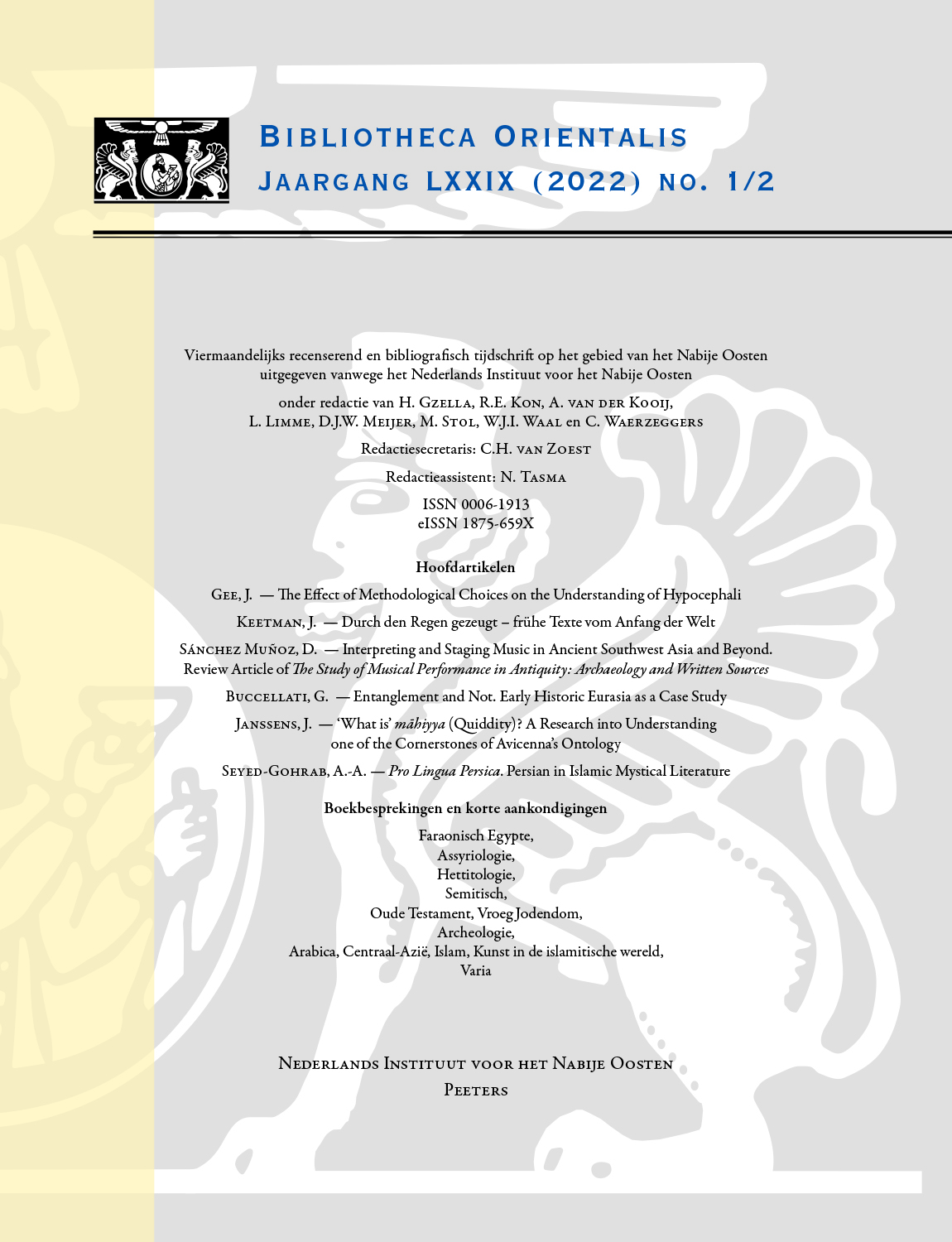 Document Details :

Title: Faraonisch Egypte
Author(s):
Journal: Bibliotheca Orientalis
Volume: 60 Issue: 5-6 Date: september - december 2003
Pages: 544-616
DOI: 10.2143/BIOR.60.5.2015640

Abstract :
USICK, P. — Adventures in Egypt and Nubia. The Travels of William John Bankes (1786-1855). British Museum Press, London, 2002.

LINANT DE BELLEFONDS BEY, L. M. — Voyage aux Mines d'Or du Pharaon, composé de Entre Nil et Mer Rouge par Jean-Claude Goyon, Un homme d'action dans l'Égypte du XIXe siécle par Marcel Kurz. Éditions Fata Morgana, 2002.

TAKÁCS, G. — Etymological Dictionary of Egyptian. Vol. Two: b-, p-, f-. (Handbuch der Orientalistik, I, 48/2). Brill Publishers N.V., Leiden 2001.

BORCHERS, D., F. KAMMERZELL, S. WENINGER — Lingua Aegyptia SM 3: Hieroglyphen Alphabete Schriftreformen. Seminar f. Ägyptologie/Koptologie, Göttingen, 2001.

GUTGESELL, M. — Die Datierung der Ostraka und Papyri aus Deir el Medineh. T. II. Gerstenberg Verlag, Hildesheim, 2002.

HELCK, W.— Die datierten und datierbaren Ostraka, Papyri und Graffiti von Deir el-Medineh. Aegyptologische Abhandlungen Band 63. Verlag Otto Harrassowitz, Wiesbaden, 2002.

CIAŁOWICZ K. M. — La naissance d'un royaume. L'Égypte dès la période prédynastique à la fin de la Iere Dynastie. Uniwersytet Jagiellonski. Kraków, 2001.

GUNDLACH, Rolf, und Wilfried SEIPEL (Hrsg.) — Das frühe ägyptische Königtum. Akten des 2. Symposiums zur ägyptischen Königsideologie in Wien 24.-226.9.1997. (Ägypten und Altes Testament, Band 36.2). Verlag Otto Harrassowitz, Wiesbaden, 1999.

a result, the systematical and catalogue parts that are most
important in the book are absent in the paper and it is a col-
lection of unquestionable observations on the iconography of

MEYER-DIETRICH, Erika — Nechet und Nil. Ein ägyptischer Frauensarg des Mittleren Reiches aus religionsökologischer Sicht (Acta Universitatis Upsaliensis, Historia Religionum 18). Uppsala, 2001.

INCONNU-BOCQUILLON, D. —Le mythe de la Déesse Lointaine à Philae. Inst. Français d'archéol. orientale, Cairo, 2001.

LABRIQUE, F. (éd.) — Religions mediterranéennes et orientales de l'antiquité. Inst. Français d'Archéologie. Orientale, Cairo, 2002.

D'ÉGYPTE ET DE BIBLE. Mélanges de science religieuse. Université Catholique de Lille, Lille, 2002.

HENDRICKX, S., B. MIDANT-REYNES, W. VAN NEER — Mahgar Dendera 2 (Haute Egypte), un site d'occupation Badarien. Universitaire Pers Leuven, Leuven, 2001.

BARTAM. — Abusir V. The Cemeteries at Abusir South I. Czech Inst. of Egyptology, Praha, 2001.

korte aankondigingen:

BUDDE, D. e.a. — Kurzbibliographie zu übersetzen Tempeltexten der griechisch-römischen Zeit. (BiETud 136). Inst. français d'archeologie orientale, Cairo, 2003.

BLÖBAUM, A.I., J. KAHL, S.D. SCHWEITZER (Hrsg.) — Ägypten – Münster. Verlag Otto Harrassowitz, Wiesbaden, 2003.


Download article