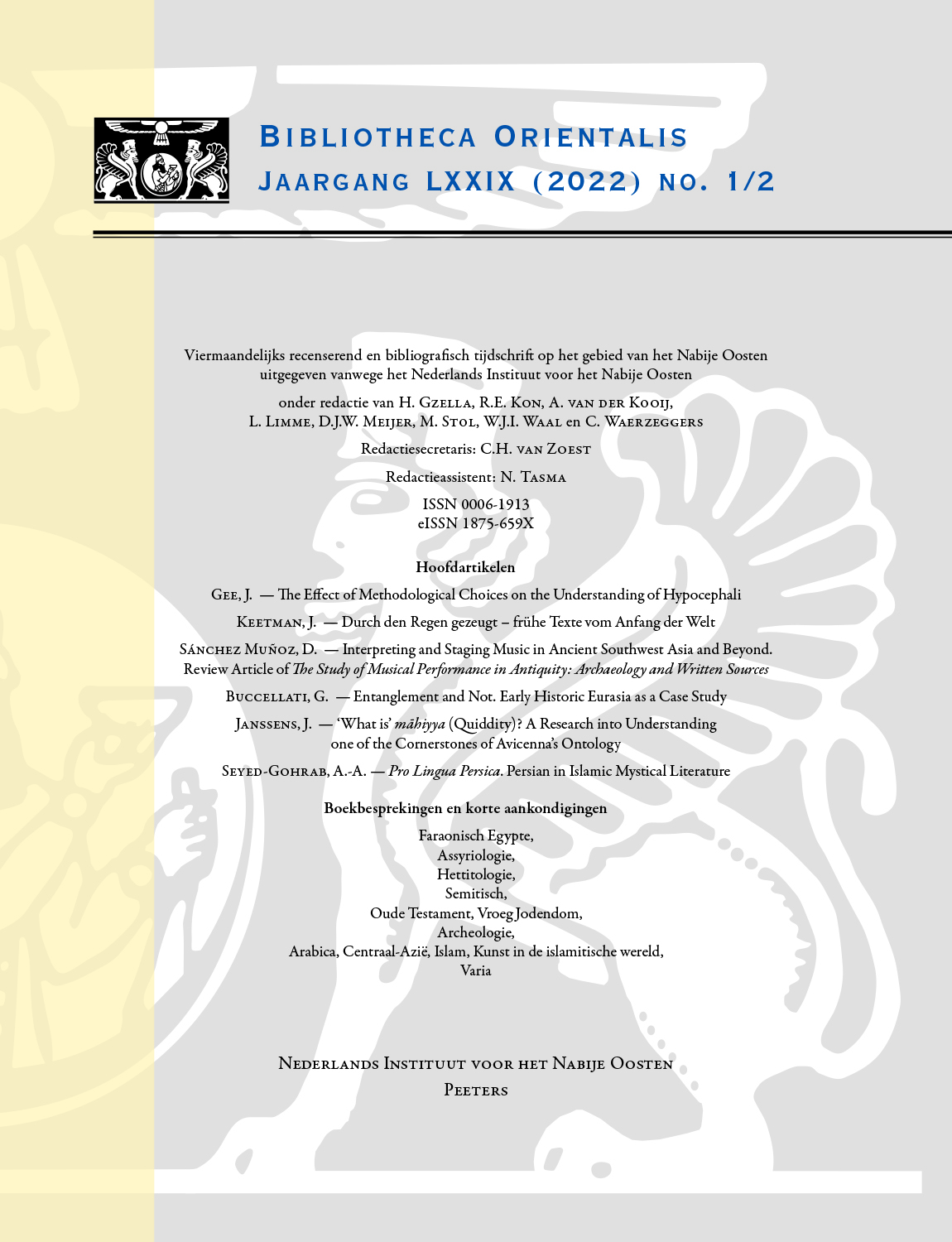 Document Details :

Title: Assyriologie
Author(s):
Journal: Bibliotheca Orientalis
Volume: 61 Issue: 1-2 Date: januari - april 2004
Pages: 128-165
DOI: 10.2143/BIOR.61.1.2015591

Abstract :
SALLABERGER, W., K. VOLK, A. ZGOLL (Hrsg.) — Literatur, Politik und Recht in Mesopotamien. Fs für C. Wilcke. Verlag Otto Harrassowitz, Wiesbaden, 2003.

KLENGEL, Horst, Evelyn KLENGEL-BRANDT — Spät-altbabylonische Tontafeln. Texte und Siegelabrollungen. = Vorderasiatische Schriftdenkmäler der Staatlichen Museen zu Berlin, Neue Folge, Heft XIII (Heft XXIX). Verlag Philipp von Zabern, Mainz am Rhein, 2002.

JAKOB-ROST, L., K. RADNER, V. DONBAZ — Neuassyrische Rechsturkunden II. SDV Saarbrücker Druckerei u. Verlag, Saarbrücken, 2000.

LUUKKO, M., G. VAN BUYLAERE — The Political Correspondence of Esarhaddon, SAA, Vol. XVI. Helsinki University Press, Helsinki, 2002.

PARPOLA, Simo, Heather D. BAKER — The Prosopography of the Neo-Assyrian Empire, Vol. 2, Parts I (Ḫ-K) and II (L-N). The Neo-Assyrian Text Corpus Project, Helsinki 2000.

LINDSTRÖM, G. — Uruk: Siegelabdrücke auf hellenistischen Tonbullen und Tontafeln. Philipp von Zabern GmbH, Mainz am Rhein, 2003.

BIDMEAD, J. — The Akītu Festival, Gorgias Press LLC, Piscataway, 2002.

korte aankondigingen:

GORDON, Cyrus H., Gary A. RENDSBURG (eds.) — Eblaitica: Essays on the Ebla Archives and Eblaite Language. Volume 4. Eisenbrauns, Winona Lake, 2002.




Download article