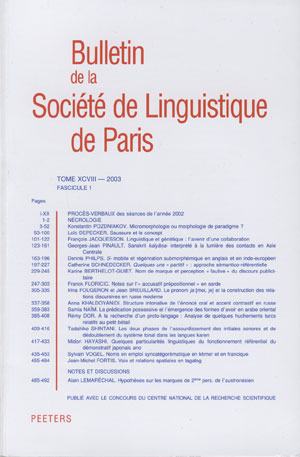 Document Details :

Title: Le Bulletin de la Société de Linguistique de Paris parmi les principales revues de linguistique de son temps
Author(s): KOERNER, E.F.K.
Journal: Bulletin de la Société de Linguistique de Paris
Volume: 100 Issue: 1 Date: 2005
Pages: 405-424
DOI: 10.2143/BSL.100.1.2015465

Abstract :
Le thème de cette contribution autorisait bien des interprétations et des réponses. Il ne pouvait être question, dans le temps imparti, de comparer le Bulletin de la Société de Linguistique de Paris avec les périodiques publiés à l'étranger durant cent trente-cinq ans, ou même seulement durant les dix premières années, 1869-1879, de sa longue existence. Il s'agit de la période la plus importante, durant laquelle le BSL eut à se définir et à s'imposer comme le principal organe d'expression de la linguistique en France. A partir de 1876, les exigences scientifiques (en un temps où la définition des objets de recherche de la S.L.P. est fixée par un décret ministériel) font franchir une étape décisive à la linguistique qui se ressemble désormais (cf. Koerner 1976). Cette année voit la publication de la loi de Verner en avril alors qu'en octobre Saussure arrive à Leipzig, et que paraissent les livres de Leskien, Sievers et Winteler ou les contributions de Brugmann, Osthoff et d'autres. Cette année-là, Saussure soumet à la S.L.P. une première esquisse du Mémoire. Notre article, après quelques remarques préalables sur l'importance des périodiques pour la discipline, propose une fois encore (cf. Meillet 1930, Vendryes 1955, Benveniste 1971, Bergounioux 1996, 1997) un historique – qui, pour une fois, n'est pas rédigé par un secrétaire ou un administrateur de la S.L.P. – concernant les premières années du BSL et ses relations avec les autres revues, françaises et surtout étrangères. En conclusion, nous présentons une liste choisie de périodiques philologiques et linguistiques publiés entre
1841 et 1891.


---


The BSL among the main linguistic journals of its time: The suggested topic for the paper was general enough to allow for a variety of interpretations and possible answers. What could not be done under the circumstances was a kind of comparison of the Bulletin of the Société de Linguistique de Paris with the journals outside France over the past 100 years, not even for the first ten or so years of its long life, 1869–1879. No doubt, this was arguably the most important period, when the journal had to define itself and develop its status as the central voice of linguistics in France. Indeed, 1876, the year the Bulletin was given a more precise direction (and definition of its coverage by ministerial decree), stands out as a singular point in time in the history of linguistics as the science we know (cf. Koerner 1976, for details) – from Verner's Law being published in April that year to Saussure's arrival in Leipzig in October, and much else (books by Leskien, Sievers, and Winteler or papers by Brugmann, Osthoff and others, and Saussure's submission to the S.L.P. of his prelude to the Mémoire.) Instead, the present paper, after some general remarks on the importance of journals for the health of the discipline, offers yet another (cf. Meillet 1930, Vendryes 1955, Benveniste 1971, Bergounioux 1996, 1997) historical account – this time not from a secretary of the S.L.P. – of the early years of the Bulletinand its relations with other journals inside and, in particular, outside France, and concludes with a presentation of a select list of philological and linguistic periodicals published between 1841
and 1891.


Download article