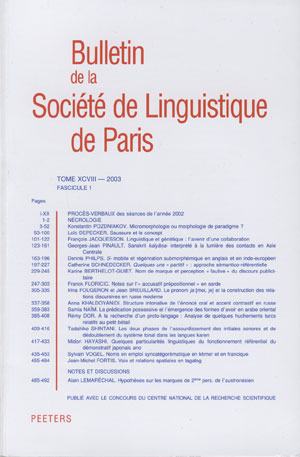 Document Details :

Title: La place de la langue française dans les Mémoires et le Bulletin de la Société de Linguistique de Paris
Author(s): BLANCHE-BENVENISTE, Claire
Journal: Bulletin de la Société de Linguistique de Paris
Volume: 100 Issue: 1 Date: 2005
Pages: 183-223
DOI: 10.2143/BSL.100.1.2015457

Abstract :
À ses débuts, entre 1868 et 1905, la Société de Linguistique de Paris a consacré peu de place à la langue française, en ne lui réservant que des études traditionnelles sur les étymologies et les régionalismes. Tout change pendant les années 1905-1935, lorsque les acquis de la linguistique historique et de la linguistique générale commencent à être appliqués au français. Dans ses nombreux comptes rendus consacrés aux publications sur la grammaire française, Antoine Meillet a souvent réclamé encore plus de renouvellement dans les données, dans les méthodes et dans l'utilisation de la sociologie et de l'histoire, de sorte que ses observations paraissent encore novatrices de nos jours. Pendant les années 1946-1968, à travers les compte rendus de R.L. Wagner, le Bulletin suit de près l'influence du structuralisme et la diffusion des idées de G. Guillaume. Dans la dernière époque considérée, de 1968 aux années 80, Jean Stéfanini continue l'examen des nouvelles théories et des œuvres de vulgarisation. Il y ajoute un intérêt nouveau pour l'histoire des idées grammaticales. Vue par ces trois linguistes, la langue française a gagné sa légitimité dans les publications de la Société.


---


French Language in the publications of the Société de Linguistique de Paris: during its first thirty years, the Société de Linguistique de Paris gave little importance to the study of the French Language, except for traditional etymology and regional features. Later on, three major linguistic scholars brought about a strong renewal. Between 1905 and 1935, when French linguists began to import theories and methods from historical and general linguistics, the Bulletin published many reviews, mainly under Antoine Meillet's influence. Meillet arguments for more accurate data and more sociological and historical methods still sound very modern today. In the years following World War 2, French studies adopted structuralist procedures and turned them to accounts. R.L. Wagner launched an important pedagogical renewal in linguistic teaching. From 1968 to 80s, Jean Stéfanini, particularly interested in the history of grammar, offered many influential reviews dealing with French. The part of the linguistic study of French in the publications of the SLP has continuously increased thanks to those three linguists.




Download article