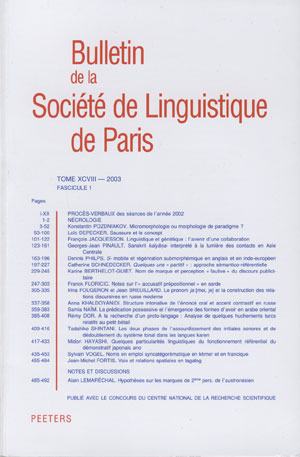 Document Details :

Title: La place de la linguistique romane dans le BSL
Author(s): GLEßGEN, Martin-D.
Journal: Bulletin de la Société de Linguistique de Paris
Volume: 100 Issue: 1 Date: 2005
Pages: 121-181
DOI: 10.2143/BSL.100.1.2015456

Abstract :
La part de linguistique romane dans le BSL est très réduite parmi les articles mais bien présente dans les comptes rendus (15 % des comptes rendus). Une analyse globale des thèmes traités par les ouvrages recensés dans 60 numéros du BSL (1912-1951; 1984-2003, cf. annexe) permet de définir la physionomie romaniste véhiculée par cette revue: parmi les langues romanes, le BSL tient essentiellement compte du français (60 % des comptes rendus) et seulement dans une mesure beaucoup plus faible de l'espagnol, de l'italien, du roumain, de l'occitan et des langues créoles à base lexicale romane; les autres langues romanes (portugais, romanche, catalan, sarde, latin médiéval, etc.) sont presque absentes. D'un point de vue thématique, le BSL favorise les études de grammaire sur les langues standard actuelles; la lexicologie et la lexicographie, traditionnellement très développées en romanistique sont beaucoup moins présentes, de même que les études historiques; les différents domaines variationnels (dialectologie, langues régionales, variations diastratique et diaphasique) sont peu équilibrés. Par ailleurs, les ouvrages publiés par des chercheurs français reçoivent une attention plus grande que ceux des linguistes étrangers. Les derniers numéros du BSL montrent néanmoins une ouverture très prometteuse par l'accueil d'articles de romanistique en plus grand nombre.


---


The part of Romance linguistics in the articles of the BSL is extremely reduced. However it is significant in its reviews (15% of them are dedicated to Romance languages). A thematic analysis of the scholarly studies reviewed in 60 volumes of the BSL (1912-1951; 1984-2003, cfr. Annexe) enables us to draw a portrait of what kind of romanistics is represented in the BSL. Among the Romance languages it studies, the BSL deals essentially with French (60% of the reviews), in a minor degree also Spanish, Italian, Rumanian, Occitan and Creole languages based on a romance lexicon; the other Romance languages, such as Portuguese, Romanche, Catalan, Sardinian or even medieval Latin are almost absent. From a thematic point of view, the BSL focuses on grammar studies of present day standard languages. Lexicology and lexicography, traditionally well-developed in the romance studies are much less represented. Historical topics do not appear frequently; the different fields of linguistic variation (dialectology, regional languages, diastratic and diaphasic variations) are not well balanced. Furthermore, the studies published by French scholars receive a greater attention than those written by linguists from other countries. Nevertheless, the recent volumes of the BSL have significantly increased the number of articles about Romance languages, which can be judged as a very favorable tendency.


Download article