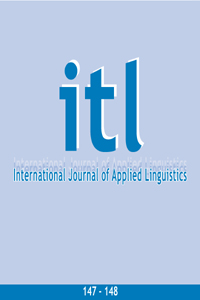 Document Details :

Title: The Generalization of Instruction on Genitive Relative Clause in the Acquisition of English as a Foreign Language
Author(s): ITO, Akihiro
Journal: ITL - International Journal of Applied Linguistics
Volume: 151 Date: 2006
Pages: 99-114
DOI: 10.2143/ITL.151.0.2015224

Abstract :
This study examines the generalization of instruction in foreign language learning. A group of Japanese learners of English served as participants and received spatial instruction in the structure of genitive relative clauses. The participants were given a pre-test on combining two sentences into one containing a genitive relative clause wherein the relativized noun phrase following the genitive marker 'whose' is either subject, direct object, or object of preosition. Based on the TOEFL and the pre-test results, four equal groups were formed; three of these served as experimental groups, and one as a control group. Each experimental group was given instruction on the formation of only one type of genitive relative clause. The participants were the given two post-tests. The results indicated that the generalization of learning begins from structures that are typologically more marked genitive relative clauses to those structures that are typologically less marked, and not vice versa.