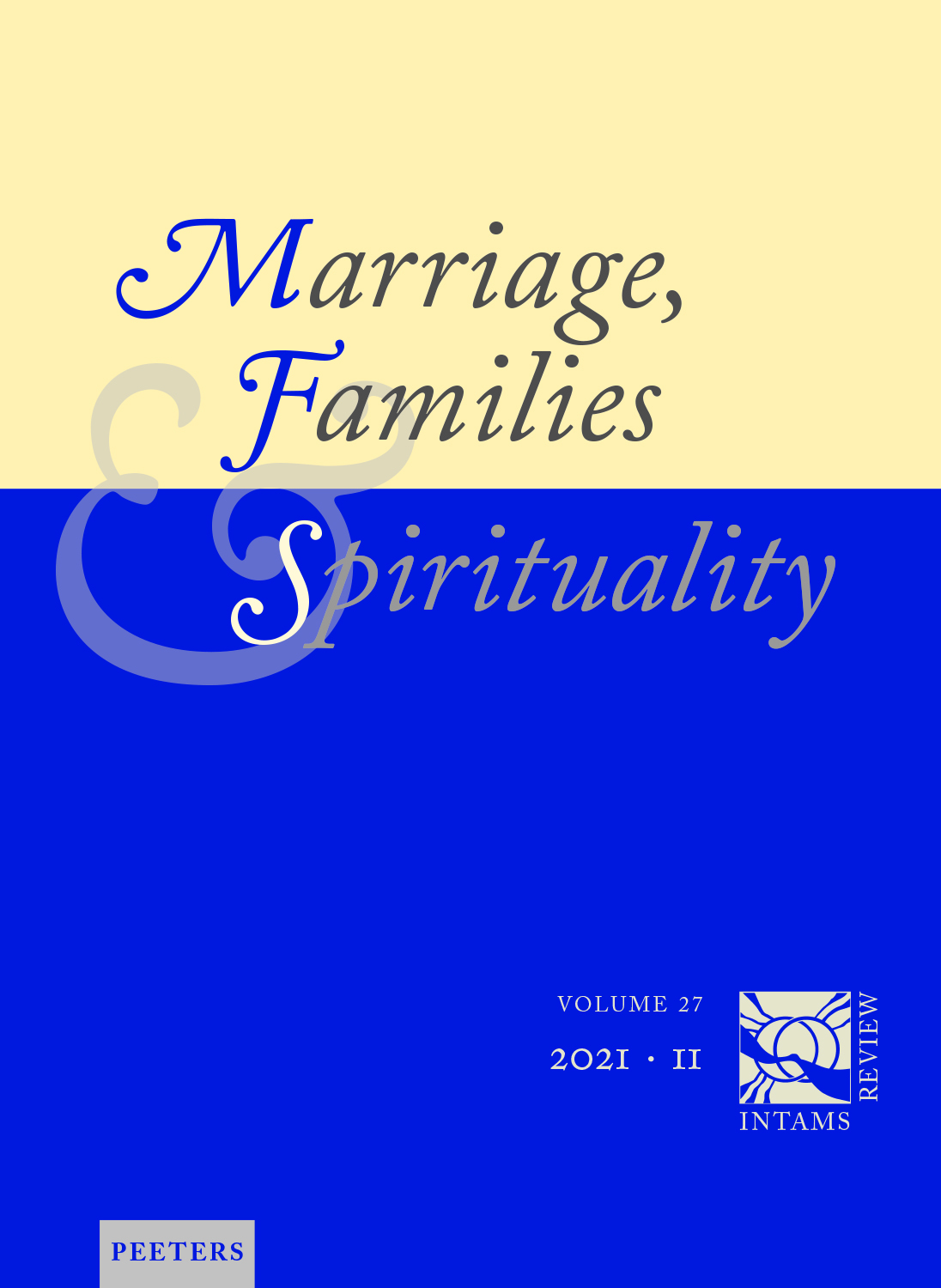 Document Details :

Title: Menschwerdung in lebensllanger Beziehung
Subtitle: Skizze zu einer Spiritualität der Ehe
Author(s): MIGGELBRINK, Ralf
Journal: Marriage, Families & Spirituality
Volume: 11 Issue: 1 Date: Spring 2005
Pages: 106-121
DOI: 10.2143/INT.11.1.2014363

Abstract :
Die westlich-lateinische Tradition tut sich mit einer Anerkenntnis der Ehe als einer spirituellen Lebensform schwer. Der vermeintlichen Spiritualitätsfeindlichkeit des Eros wird eine starke Betonung ethisch-sozialethischer Wesenselemente der Ehe entgegengestellt. Hier dagegen wird statt des Eros oder des Ethos in Anknüpfung an orthodoxe und frühmittelalterliche Intuitionen ein dritter Ausgangspunkt zur Wesensbestimmung der Ehe gewählt: Was die christliche Ehe heute von andern Sozialformen gelebter Sexualität unterscheidet, ist die besondere Betonung der lebenslänglichen Bindung. Eine solche Bindung ist in sich in mehr oder weniger großer Bewusstheit immer schon theologisches Handeln. Es wird nämlich möglich und sinnvoll nur im Horizont der Gottesbeziehung. Vor Gott werden überhaupt erst Akte, mit denen über das Leben als ganzes verfügt wird, möglich und sinnvoll. Die lebenslängliche Ehe kann im Horizont der Gottesbeziehung zum Bild der Treue und Beziehungswilligkeit Gottes werden. Dieses Zum-Bild-Werden steht jedoch nicht in der Macht der Eheleute, sondern ist göttliches Werk an ihnen und muss in gnadentheologischer Gelassenheit erwartet werden. Richtig verstandene Sakramentalität impliziert ein Moment von Passivität, nicht von juridischer Effizienzorientierung. Den Abschluss des Artikels bilden 5 Thesen zu praktischen Dimensionen einer Spiritualität der Ehe: (1) Eine Ehespiritualität ist zu entwickeln, indem die Linien einer allgemeinen christlichen Spiritualität ausgezogen werden hin auf die Lebenssituation der Eheleute (keine Separatspiritualität!). (2) Als realisierendes Bild der Beziehungsgeschichte Gottes mit den Menschen ist die Ehe Beziehung, mit der die Freiheit der einzelnen in der Ehe berufen ist, zu wachsen und nicht geringer zu werden. (3) In postmodernen Zeiten haben Ehen experimentellen Charakter. Angesichts fragwürdig werdender normierender Milieus müssen Eheleute miteinander "Wege im Unwegsamen" suchen. (4) Dennoch liegt in der Verbundenheit christlicher Eheleute mit der langen Traditionsgeschichte ihrer Kirche eine Quelle der Ermutigung und der Inspiration. (5) Eheliche Beziehungsintensität gewinnt, wo sie nicht exkludierend ist, wo sie intensive Beziehungen zulässt und in die eheliche Intimität integriert.


---


Becoming Human in Life-Long Relationship: Towards a Marital Spirituality
The western Latin tradition finds it hard to recognize marriage as a spiritual state of life. Eros is considered hostile to spirituality and antithetical to the essential ethical quality of marriage. The present article, instead, chooses a third foundation for marriage beyond eros or ethos, a foundation that comes from the medieval and orthodox traditions: it claims that that which distinguishes Christian marriage today from other social realities and sexualities is the accent placed on the enduring relationship. To establish such a relationship is already, more or less consciously, a theological act. It is only possible and only has meaning in the perspective of a relationship with God. It is only before God that life-long acts have any sense. Marriage as a life-long relation can become before God an image of God's fidelity and relational love. But it is not the couple united in marriage that can create this image, it is the work of God in the couple that allows to do so, by allowing God's grace to work within the relationship. Sacramentality implies a moment of passivity; it is not something that one does. The article concludes by presenting five theses concerning the concrete dimensions of the spiritual nature of marriage: (1) a spirituality of marriage develops by applying the principles of spirituality in general to the lived situation of the married couple (which is not a separate spirituality). (2) The married relationship, insofar as it is an image of the relation established by God with humanity, is a relation in which each partner is called to grow and not be diminished. (3) In our postmodern age, marriage has become a tentative experience. Before more and more equivocal contexts, the two married partners must find their way in an "undiscovered country". (4) The bond that unites Christians to the long tradition of their church is a source of encouragement and inspiration. (5) The intensity of the relationship between two persons united by marriage can only grow if it is not exclusive and lets itself be free in its intimacy.


Download article