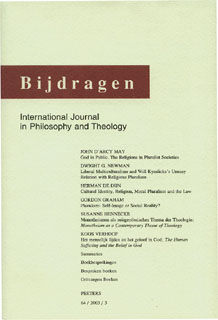 Document Details :

Title: De crisis in Europa: een zaak van geloof of ongeloof? - Europe's Crisis: A Matter of Belief and Disbelief?
Subtitle: Perspectieven uit het Vaticaan - Perspectives from the Vatican
Author(s): BOEVE, Lieve
Journal: Bijdragen
Volume: 67 Issue: 2 Date: 2006
Pages: 152-179
DOI: 10.2143/BIJ.67.2.2014261

Abstract :


Europe's Crisis – A Matter of Belief and Disbelief? Perspectives from the Vatican
For Joseph Ratzinger, elected Pope Benedict XVI in 2005, Europe is a continent in crisis. Indeed he goes even further to suggest a link between the socio-cultural crisis of modern society and the crisis facing the Christian faith in Europe. Modernity has transformed Europe into a continent without God and at the same time has undermined the influence of Christian faith and tradition. As a result, the self-understanding of both Europe and the church is flawed. Less than half a century ago, however, at the Second Vatican Council, and more specifically in the context of the Pastoral Constitution on the Church in the Modern World – Gaudium et spes– the church turned towards the world and entered into a dialogue with modernity. Ratzinger is now inclined to argue that the said dialogue was doomed to failure from the outset. Only a clear reverification of the European ideal rooted in the Christian faith can forestall the crisis in Europe. Only a Christianity that refuses to be hollowed out by modern thought can be of service to Europe in this regard. The present pope is and was a privileged witness and active participant in the post-Conciliar period. He not only subscribed to the analysis we have sketched but he was among the first to warn both church and society against the erosion of modernity. In his most recent work Values in a Time of Upheaval, for example, he favours the idea that Christians as a creative minority should help 'Europe win back the best of its heritage and use it in the service of all humanity'. The present contribution presents the evolution and primary features of Joseph Ratzinger's thought in this regard and is concluded by a number of critical observations.