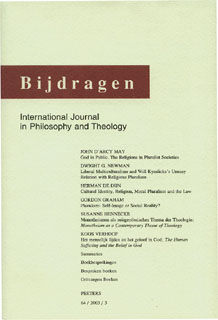 Document Details :

Title: 'All authority is from God'
Subtitle: An Aspect of Kant's Theologico-Political Legacy
Author(s): MOORS, Martin
Journal: Bijdragen
Volume: 67 Issue: 2 Date: 2006
Pages: 142-151
DOI: 10.2143/BIJ.67.2.2014260

Abstract :


"All Authority is from God". An Aspect of Kant's Theologico-Political Legacy
In this essay, the position of Kant's metaphysical idea of political authority is examined, first from the point of view of its distinctive position with regard to other modern thinkers on this issue, second – and more substantially – from the point of view of how Kant thinks political authority as being intrinsically dependent from a theological idea. Scrutinizing this theological idea, we argue, first, that it is of a mere aesthetic use; further, that its noumenal referent is a fictitious ("as if") God as Obligator; furthermore that the necessity by which this idea is inserted into a juridico-political setting is a merely subjective necessity; finally that its expected impact on external (civil) freedom is exclusively dependent from the ethical momentum by which external lawgiving is internally formatted.