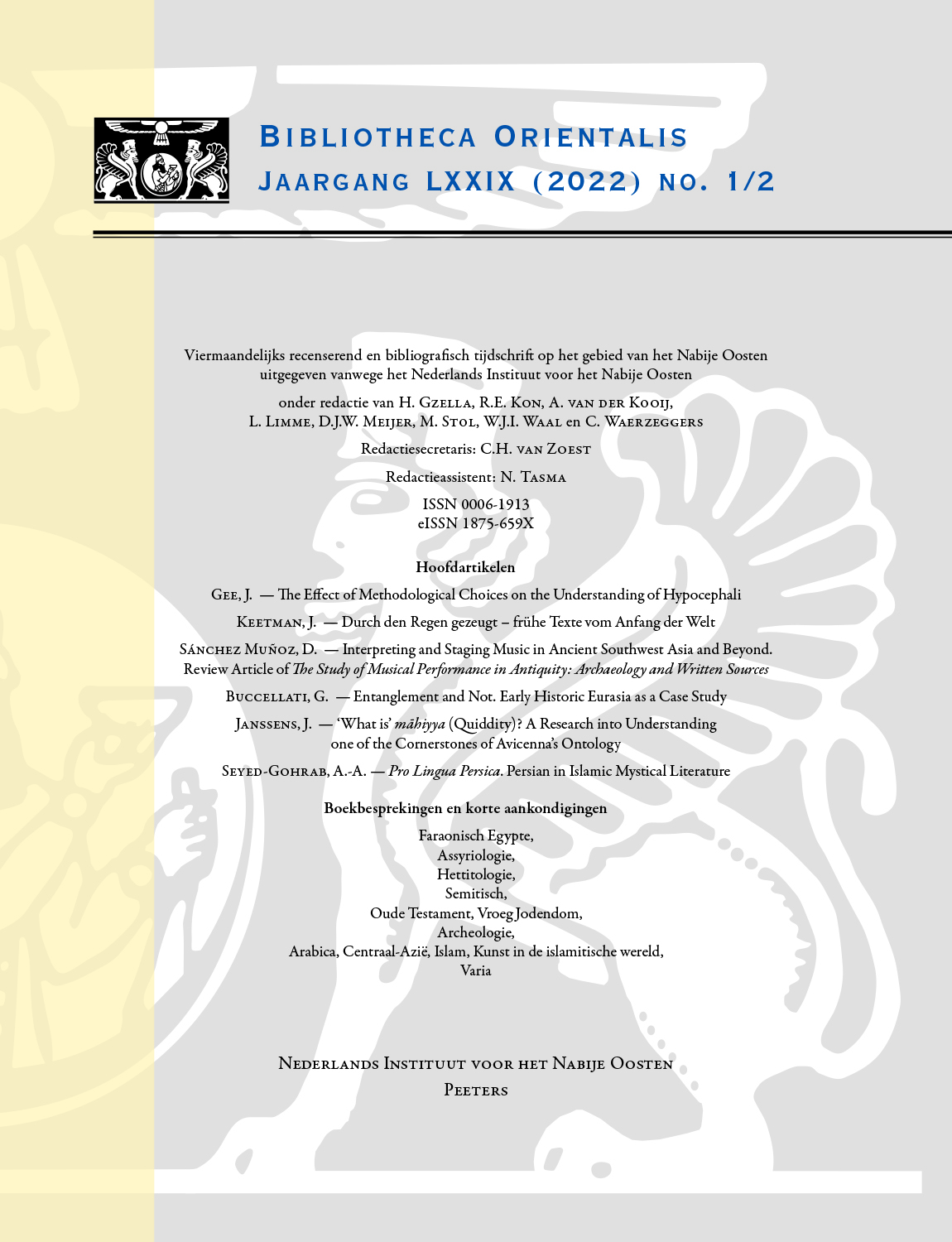 Document Details :

Title: Archeologie
Author(s):
Journal: Bibliotheca Orientalis
Volume: 62 Issue: 1-2 Date: januari-april 2005
Pages: 124-147
DOI: 10.2143/BIOR.62.1.2011724

Abstract :
ÇAMBEL, H., A. ÖZYAR, — Karatepe-Aslantaş. Azatiwataya. Die Bildwerke. Verlag Philipp von Zabern GmbH, Mainz am Rhein, 2003.

EHRENBERG, E. (ed.) — Leaving No Stones Unturned. Essays on the Ancient Near East and Egypt in Honor of Donald P. Hansen. Fs D.P. Hansen. Eisenbrauns, Winona Lake, 2002.

WERR, L., e.a. (eds.) — Of Pots and Plans. Papers on the Archaeology and History of Mesopotamia and Syria presented to David Oates in Honour of his 75th Birthday. Fs D. Oates. NABU Booksellers & Publishers, London, 2002.

LITVINSKIJ, B.A., I.R. PIČIKJAN — Archäologie in Iran und Turan. Bd. 4: Taxt-i Sangin. Der Oxus-Tempel. Philipp von Zabern GmbH, Mainz am Rhein, 2002.

PELTENBURG, E. and A. WASSE (Eds.) — Neolithic Revolution. New perspectives on southwest Asia in light of recent discoveries on Cyprus. (Levant Supplementary Series 1). Oxbow Books, Oxford, 2004.

NIELSEN, Anne Marie, Lone Wriedt SØRENSEN — The Vase Collection in the Odense University. SIMA Vol. XX. CCA 22. Edited and revised by Karin Nys and Paul Åström. Paul Åström Förlag, Jonsered 2001

VAN WIJNGAARDEN, G.J. — Use and Appreciation of Mycenaean Pottery in the Levant, Cyprus and Italy. Amsterdam University Press, Amsterdam, 2002.

BOTTINI,G.C., L. DI SEGNI and L.D. CHRUPCALA (Eds.) — One Land - Many Cultures. Archaeological studies in honour of Stanislao Loffreda OFM. (Studium Biblicum Franciscanum, Collectio Maior, 41). Franciscan Printing Press, Jerusalem, 2003.


Download article