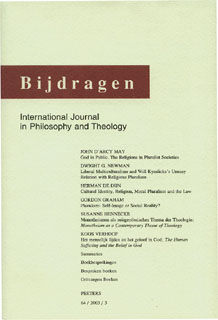 Document Details :

Title: De plaats van levensbeschuwelijk geïnspireerde standpunten en argumentaties op het politieke forum
Subtitle: The Postion of Religious and Ideologically Inspired Views and Agumentations on the Political Forum. The Standard Vision Questioned
Author(s): LOOBUYCK, Patrick
Journal: Bijdragen
Volume: 67 Issue: 1 Date: 2006
Pages: 3-22
DOI: 10.2143/BIJ.67.1.2005613

Abstract :
This contribution seeks a nuanced democratic view on the position of religious and ideologically inspired views and argumentations on the political forum. We reject the liberal standard vision that rules out every reference to comprehensive doctrines. Political decisions should be neutral in their formulation of a proposition, but this does not exclude that there is some room for pluralism in the debate that precedes those decisions. From a democratic point of view there is no objection to religious and ideological views and argumentations in the political debate on condition that citizens adopt a democratic attitude with regard to their own comprehensive views (on the public forum).