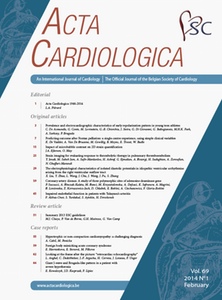 Document Details :

Title: Markers of inflammation in atrial fibrillation
Author(s): ROSA, Antonella , DIURNI, Veronica , PLACIDO, Antonella , BERTAZZONI, Giuliano
Journal: Acta Cardiologica
Volume: 58 Issue: 1 Date: February 2003
Pages: 43-44
DOI: 10.2143/AC.58.1.2005260

Abstract :
An article about the possible role of inflammation in some forms of atrial fibrillation (AF), by Dernellis and Panaretou, appeared in Acta Cardiologica.
The authors assessed the levels of C-reactive protein (CRP) in 40 patients with AF and found that the levels were higher compared with control patients. Moreover, in the paroxysmal AF (PAF) group CRP levels were higher in the patients who failed to be cardioverted compared to those cardioverted, suggesting that inflammation may contribute to the persistence of AF.