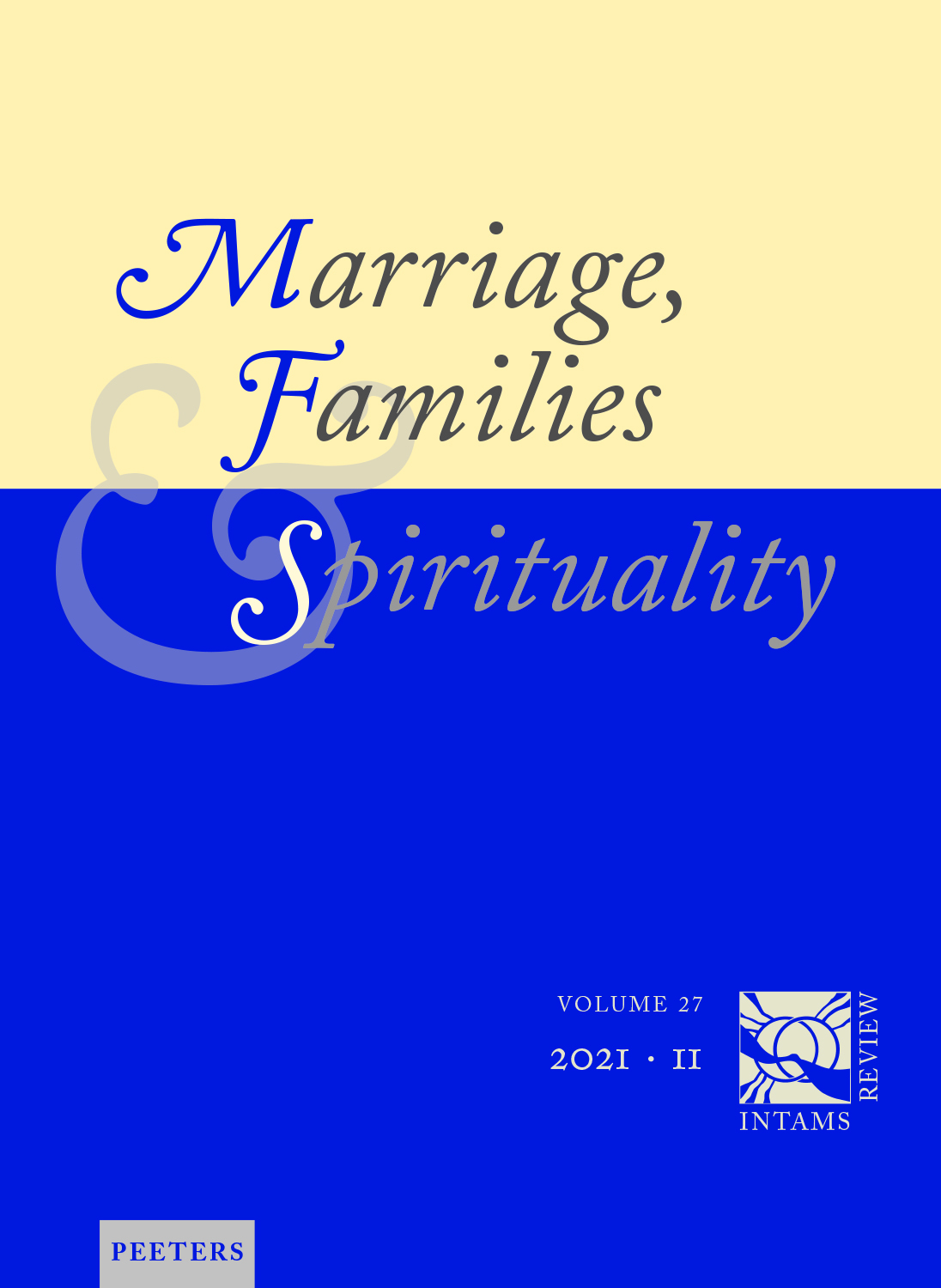 Document Details :

Title: Marriage Spirituality
Subtitle: Living Out the Call to Be a Sign of God's Self-Giving Love
Author(s): VILLEGAS, Diana L.
Journal: Marriage, Families & Spirituality
Volume: 7 Issue: 2 Date: 2001
Pages: 157-168
DOI: 10.2143/INT.7.2.2004514

Abstract :
The article contributes to the development of a Christian spirituality of marriage by drawing from the writings of Catherine of Siena and supplementing them with psychological writings on intimacy and love. By looking at marriage as a lifestyle through which one lives the Christian ideal, the author shows how Catherine's spirituality can be applied to married life and how this application is enriched when supplemented by the insights of psychology.
Informed by a retrieval of biblical texts, contemporary theologies of marriage envision this union as an intimate partnership of life that embodies self-giving love and in this way becomes a sign in the community of God's self-giving love for us. Catherine of Siena can help in developing a marital spirituality for today's society. She highlights that as persons grow away from self-centeredness, they become more able to see that which is good for self and others and act with self-giving love in choosing this good. Catherine asserts that this journey of conversion occurs through knowledge of God and knowledge of self, two sides of the same coin. The couple relationship can be seen as a specific life context through which one grows in knowledge of self: This then develops into an intentional relationship with God, whose love makes possible transformation in one's capacity to love.
Insights from contemporary psychology can offer ways of envisioning the psychological tasks necessary to live intimacy and partnership. E. and J. Whitehead describe the importance of vulnerability for the development of intimacy and describe the personality characteristics that make vulnerability possible. E. Fromm describes love in terms of the capacity to know, understand, respond, and care. He spells out how these capacities involve a giving of self that in turn depends on a maturity of personality. Marriage spirituality would include the journey towards intentionally growing in capacity for vulnerability, fostering the personality characteristics described by Fromm, and forming a partnership based on self-giving.
While Catherine highlights relationship with God, and Fromm and the Whiteheads highlight personality characteristics and psychological integration, their perspectives are complementary for a Christian marital spirituality. Both Catherine and these psychologists view love as an expression of self-giving, and both view capacity for such self-giving as the fruit of a journey requiring growth and transformation.


Download article