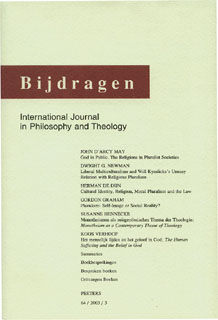 Document Details :

Title: Hoe belangrijk is literatuur in de morele opvoeding? - How Important is Literature in Moral Education?
Subtitle: Kanttekeningen bij Martha Nussbaums narratieve ethiek - Critical Notes on Martha Nussbaum's Narrative Ethics
Author(s): SCHAUBROECK, Katrien
Journal: Bijdragen
Volume: 66 Issue: 4 Date: 2005
Pages: 432-454
DOI: 10.2143/BIJ.66.4.2004379

Abstract :
Martha Nussbaum defends the use of narratives, especially novels, in moral education. Reading novels not only stimulates the moral imagination, she claims, but also provides moral insights which cannot be conveyed in any other way. This paper questions several aspects of Nussbaum's theory. First, by assuming a straightforward connection between reading fiction and moral behaviour, Nussbaum neglects a crucial distinction between emotional and real identification. Second, in stressing the importance of imagination, Nussbaum ignores love as a more genuine source of altruism. Third, a system that censors literature in the name of moral education involves some risks which this paper will explore. Fourth, it is argued that Nussbaum's preference for fiction above real-life experience is a little awkward. And finally, Nussbaum's model for moral education turns out to be problematic not only in theory but also in practice.