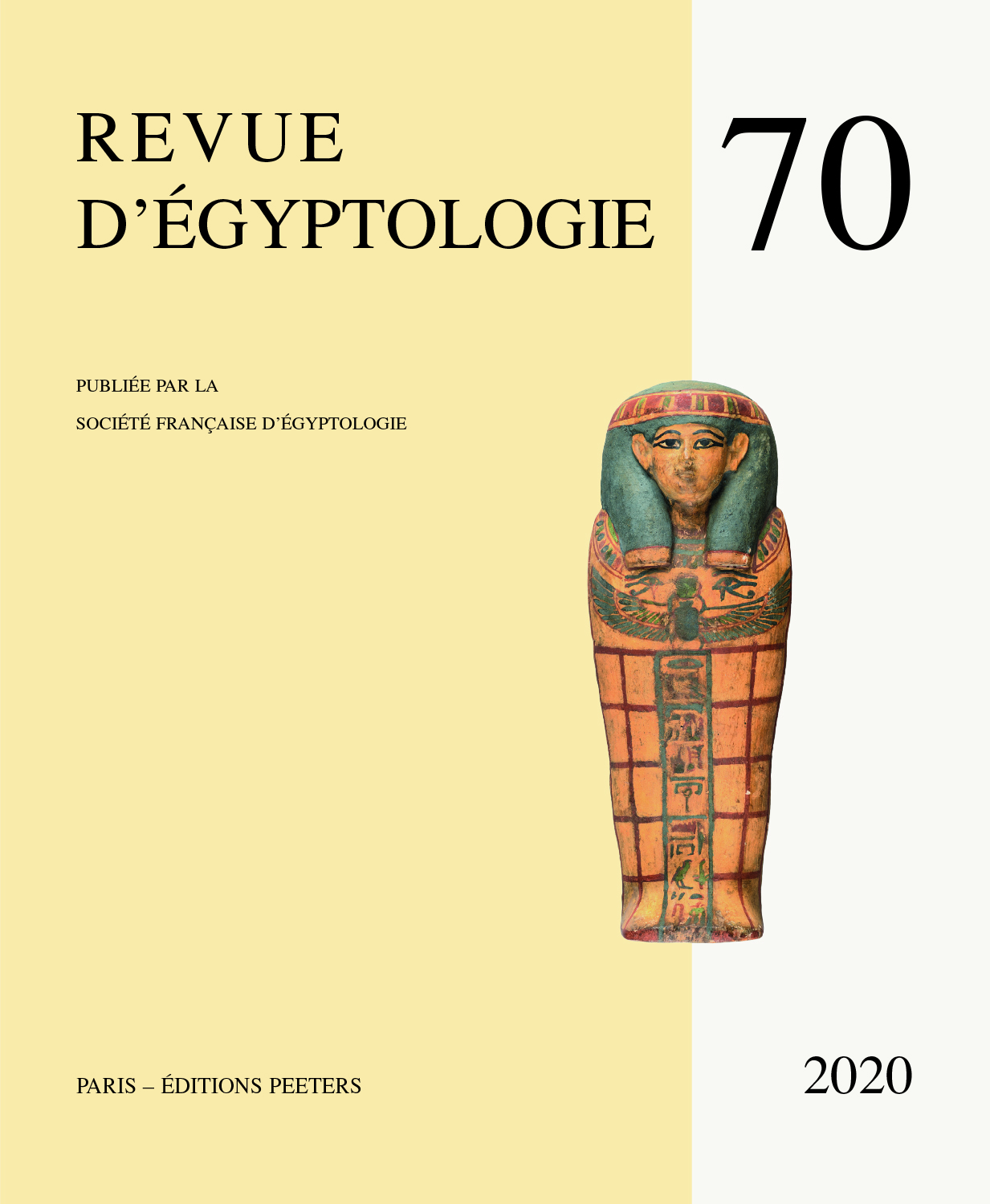 Document Details :

Title: Hout-Sekhem et le septième nome de Haute Égypte
Subtitle: La divine Oudjarenes
Author(s): COLLOMBERT, Ph.
Journal: Revue d'Égyptologie
Volume: 46 Date: 1995
Pages: 55-79
DOI: 10.2143/RE.46.0.2003723

Abstract :
L'existence d'une déesse inconnue est révélée par quatre documents provenant du septième nome de Haute-Egypte. Le premier est une stèle du British Museum (EA 934); le second est un relief gravé sur un kiosque dans la ville de Hou; le troisième est un décret de Ptolémée III Evergète rapportant une mystérieuse séance oraculaire qui se déroula devant Ptolémée II Philadelphe. Le quatrième est un bloc découvert par Petrie dans l'enceinte du temple ptolémaïque à Hou. Le recoupement de ces quatre documents permet de reconnaître que Oudjarenes était une simple mortelle qui vivait à Hout-sekhem. Après sa mort, elle fut déifiée, à l'époque ptolémaïque. Elle portait le titre d'«épouse-du-dieu de Neferhotep», de son vivant ou après sa mort, ou bien les deux. On ne peut préciser l'époque pendant laquelle elle vécut (de la Basse Epoque à la période ptolémaïque).


---

The existence of a new goddess named Oudjarenes is revealed by four documents originating in U. E. nome 7. The first one is a stela from the British Museum (EA 934); the second one is a relief carved on a kiosk in the modern town of Hu; the third one is a decree by Ptolemy III Euergetes rela- ting a tantalizing oracular session which occurred in the presence of Ptolemy II Philadelphus. The fourth is a block discovered by Petrie in the Ptolemaic temple enclosure at Hu.
The cross-checking of those four documents makes it clear that Oudjarenes was a woman who lived in Hut-sekhem. She was deified after her death, in the Ptolemaic period. She bore the title of «God's Wife of Neferhotep», whether during her lifetime or after her death, or, more plausibly, during both stages. The time when she lived cannot be specified (Late Period to Ptolemaic time).


Download article