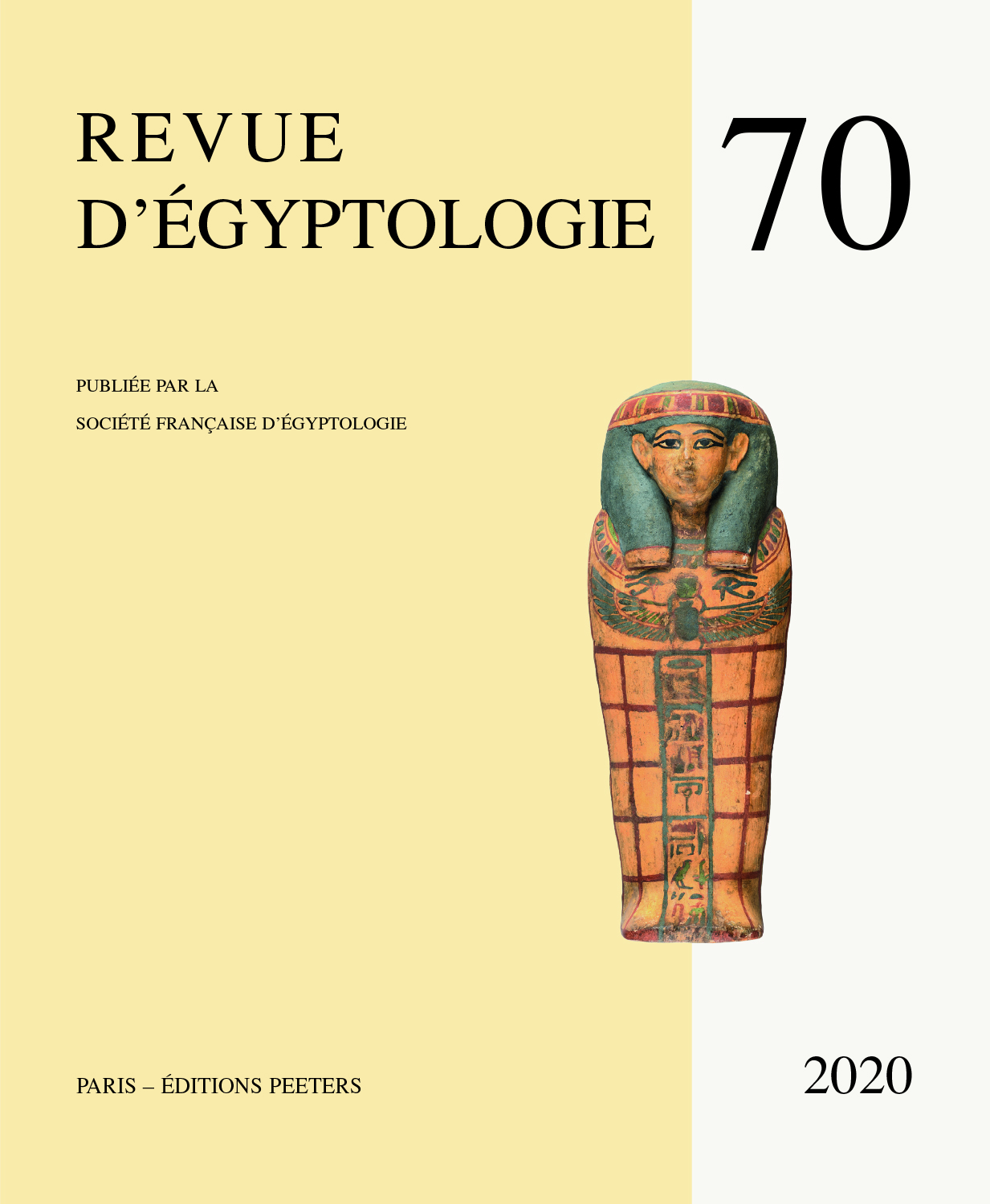 Document Details :

Title: A Vizier of Ramses III Visits an Oracle of Amun and Deir el-Medina
Author(s): WOLTERMAN, C.
Journal: Revue d'Égyptologie
Volume: 47 Date: 1996
Pages: 147-170
DOI: 10.2143/RE.47.0.2003713

Abstract :
Un texte administratif, bref et négligé, (l'ostracon Florence 2619, vs., 4-13) paraît rendre compte de la visite d'un vizir, nommé Ḥwr-n=f / Houernef, à la communauté des ouvriers de Deir el-Médineh en l'an 15, I pr.t 10 afin d'expliquer à l'équipe qu'il était installé par et pour le dieu Amon (la nomination d'un vizir par un oracle n'est pas attestée ailleurs). A l'aide des noms des chefs de l'équipe, la date peut être attribuée au roi Ramsès III. Cette date de règne permet d'établir le fait que ce vizir a été un vizir du nord, parce que son prédécesseur, le vizir Hori, semble être mort à la même année. Jusqu'alors, ce vizir a été ignoré dans la litérature. Ainsi, un troisième vizir peut être adjoint à Hori et au vizir du sud, To. Ce Houernef pouvait avoir été le vizir du nord anonyme qui est mentionné (dans le P Harris I) comme vizir 'éloigné' d'un temple à Athribis par Ramsès III et auquel succédait le vizir To en l'an 29. Un excursus traite de l'anthroponyme Ḥwr-n=f (non attesté ailleurs).


---

A much neglected, short administrative text on ostracon Florence 2619, vs., 4-13 appears to record the visit of a vizier, called Ḥwr-n=f / Hewernef, to the Deir el-Medina working community in a regnal year 15, I pr.t 10 in order to have it explained to the crew that he had been appointed by and for the god Amun (appointment by oracle of a vizier is otherwise unattested). By help of the named captains of the crew the year date can be attributed to king Ramses III. The year date also makes it possible to establish the fact that the vizier must have been a northern one, as his predecessor, the well-known vizier Hori, seems to have died in the same year. Hitherto, this vizier went unnoticed in the literature concerned. Thus, to Hori and the southern vizier To, a third vizier may be added. This Hewernef might well have been the anonymous northern vizier who is mentioned as having been 'removed' by Ramses III from a temple in Athribis (in P Harris I) and who was succeeded by vizier To in regnal year 29. An excursus deals with the (otherwise unattested) personal name Ḥwr-n=f.


Download article