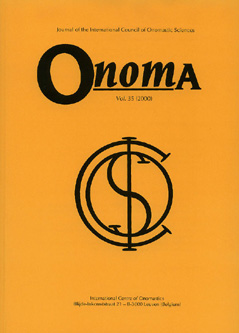 Document Details :

Title: On Wisconsin
Subtitle: The Derivation and Referent of an Old Puzzle in American Placenames
Author(s): McCAFFERTY, Michael
Journal: Onoma
Volume: 38 Date: 2003
Pages: 39-56
DOI: 10.2143/ONO.38.0.2002552

Abstract :
On Wisconsin: The Derivation and Referent of an Old Puzzle in American Placenames
Although commonly thought to be an Ojibwa placename, Wisconsin, as indicated by the linguistic and historical evidence comes from another Algonquian language, Miami-Illinois. For several decades of the mid to late 1600s Miami-Illinois speakers lived as war refugees in the Wisconsin area. Returning south before 1700 they left behind their name for the Wisconsin River. Wisconsin soon entered the European Wisconsin means 'it lies red,' which is a reference to a particular aspect of the Wisconsin River's geology.


---

Wisconsin: origine et référent d'un vieux problème en toponymie américaine
Bien que communément considéré comme un nom de lieu ojibwa, Wisconsin provient, selon toute évidence linguistique et historique, d'une autre langue algoquine, le miami-illinois. Depuis le milieu du XVIIe siècle, les locuteurs miami-illinois étaient des réfugiés de guerre dans la région de Wisconsin. Retournant vers le Sud avant 1700, ils laissèrent derrière eux leur nom à la rivière. Wisconsin entra bientôt dans le monde européen et connut un rayonnement plutôt illustre, son nom actuel résultant directement d'un croisement des univers onomastiques, de deux des plus grans explorateurs français de l'Ouest, Jacques Marquette et René de la Salle. Dans la langue autochtone originelle, Wisconsin signifie 'il est rouge,' une référence à un asoect géologique particulier de la rivière Wisconsin.


---

Zum Namen Wisconsin: Ableitung und Grundlage eines alten Rätsels in der amerikanischen Toponymie
Obwohl allgemein angenommen wird, Wisconsin sei -linguistisch und historisch eindeutig- ein Ortsname aus dem Ojibwa, kommt der Ortsnae aus einer anderen Algonquian Sprache, nämlich aus dem Miami-Illinois. Einige Jahrzehnte lang lebten Sprecher des Miami Illinois in der zweiten Hälfte des 17. Jahrhunderts ams Kriegsflüchtlingen in Wisconsin. Nach ihrer Rückkehr in den Süden vor 1700 hinterließen sie ihren Namen für den Fluss Wisconsin. Wisconsin wurde bald danach von den Europäern übernommen und durchlief eine bemerkenswerte historische Entwicklung insofern, als die moderne Form des Namens das direkte Ergebnis des Zusammentreffens der Namenwelten von zwei der bedeutendsten französischen Eroberer im Westen ist, nämlich von Jacques Marquette und René de la Salle. In der Eingeborenensprache bedeutet Wisconsin 'der rot liegt', mit Bezug zu einer geologischen Besonderheit des Flusses Wisconsin.


Download article