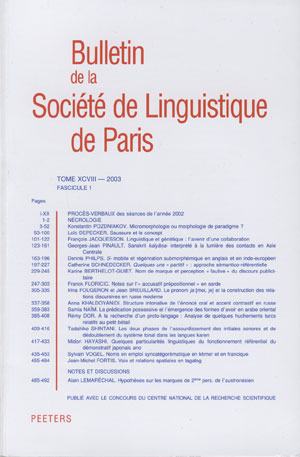 Document Details :

Title: De l'origine des langues
Subtitle: Relectures
Author(s): NICOLAÏ, Robert
Journal: Bulletin de la Société de Linguistique de Paris
Volume: 93 Issue: 1 Date: 1998
Pages: 157-180
DOI: 10.2143/BSL.93.1.2002492

Abstract :
De l'origine des langues: relectures
«... dès que la langue cesse d'être le véhicule d'une tradition, la notion de filiation perd toute pertinence»; avec cette remarque G. Manessy spécifiait le fondement de sa conception de la parenté généalogique. Il me paraît aujourd'hui opportun de considérer la question de l'évolution des langues et d'ouvrir l'horizon pour une meilleure saisie du changement linguistique en général; un bon moyen pour cela, c'est de partir du problème particulier de la constitution des langues où son approche et mes propres préoccupations se sont rencontrées. J'aborderai donc ce thème mais je déclinerai, en préalable, deux volets d'une réflexion sur la notion de «tradition» dont la présence en arrière-plan me paraît être évidente. J'ouvrirai ensuite le débat avec une interprétation générale du phénomène des convergences multiples que l'on nomme «alliance de langues» ou Sprachbund et j'achèverai mon propos en traçant un cadre d'analyse qui permette d'appréhender plus nettement la dynamique des langues et donc, accessoirement, les faits d'évolution.


---

Zum ursprung der Sprachen: ein neuer Versuch
«...Sobald eine Sprache keine Tradition mehr transportiert, verliert der Begriff der Abstammung jede Bedeutung.» mit dieser Bemerkung hat G. Manessy die Grundlagen seines Konzepts genealogischer Verwandtschaft deutlich gemacht. Es scheint mir jetzt an der Zeit zu sein, der Frage sprachlicher Evolution nachzugehen und den Horizont so zu erweitern, dass ein neues Erfassen jedes sprachlichen Wandels möglich wird. Ein guter Weg dorthin geht von der Entstehung von Sprachen aus; dabei kommen sein Zugang und meine eigenen Präferenzen einander entgegen. Ich nehme dieses Thema auf, stelle aber als Einleitung zwei Aspekte einer Überlegung zum Begriff 'Tradition' vor — ein Begriff dessen Anwesenheit als Hintergrund unseres Themas mir als evident erscheint. Danach eröffne ich die Diskussion mit einer generellen Interpretation der vielfachen Konvergenzphänomene, die Sprachallianz oder Sprachbund genannt werden. Schliesslich stelle ich einen Rahmen für die Analyse vor, der dazu verhelfen soll, die sprachliche Dynamik und damit die Fakten der Evolution klarer zu erfassen.


---

The origin of languages reconsidered
«...as soon as a language ceases to function as a carrier of a tradition, the notion of affiliation loses its meaning.» with these words G. Manessy has specified the bases of his notion of genealogical relationship. This seems to be a good moment to (re-)consider the question of linguistic evolution and to widen the horizon for a better understanding of language change in general. A good way of doing this is to start from the special problem of the coming into existence of a language — a problem where his approach and my own preoccupations have met. This, then, is the topic I take up, but after having introduced two aspects of reflections on the notion of tradition, which evidently is at the background of our problem. I then open the debate with a general interpretation of the multiple phenomena of convergency which have been named 'sprachbund'. I close by proposing a framework for an analysis which may help towards a clearer understanding of the dynamics of language and (incidentally) the facts of evolution.


Download article