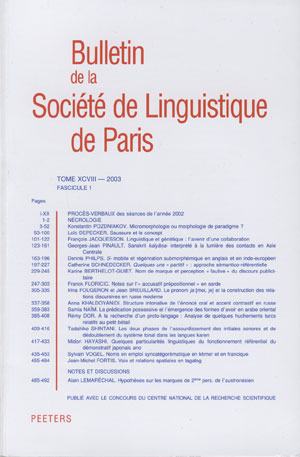 Document Details :

Title: De l'hétérogénéité en acquisition
Subtitle: Positionnements et problématiques sociolinguistiques
Author(s): DELAMOTTE-LEGRAND, Régine
Journal: Bulletin de la Société de Linguistique de Paris
Volume: 93 Issue: 1 Date: 1998
Pages: 137-156
DOI: 10.2143/BSL.93.1.2002491

Abstract :
De l'hétérogénéité en acquisition: Positionnements et problématiques sociolinguistiques
Il s'agit dans les limites de la présente contribution de mettre en perspective quelques pistes de recherche à la croisée des travaux en sociolinguistique et en acquisition du langage par l'enfant. Comme tout secteur de recherche, celui de l'appropriation du langage connaît des développements et des mutations.
Les approches sociolinguistiques permettent de questionner autrement le terrain et d'apporter des modèles explicatifs spécifiques. Des exemples sont proposés sur la base de travaux menés dans le
laboratoire Dynamiques Sociolangagières (DYALANG) de l'Université de Rouen.


---

Sociolinguistics and Language acquisition
The aim, in the limits of this presentation, is to highlight some research paths acquited both from works in sociolinguistics and from language acquisition by children. As in any research area, the field of language acquisition goes through developments and changes. Sociolinguistic approaches held to question the field in another manner and provide specific explanatory models. Examples are proposed based on the work carried out in the research center Dynamiques Sociolangagières (DYALANG) of the Rouen University.


---

Soziolinguistik und Spracherwerb
Der vorliegende Beitrag liegt im Schnittpunkt zwischen zwei Forschungsgebieten: der Soziolinguistik und dem Spracherwerb vom Kind. Wie jedes Forschungsgebiet ändert sich dieses Feld. Neuorientierungen sind zu beobachten. Dies kann sich vor allem unter dem Einfluss der soziolinguistischen Analyse entwickeln, die zu neuen spezifisch erklärenden Modellen führt. Hier werden Beispiele angeführt, die sich an unseren Untersuchungen anlehnen. Unser Forschungsinstitut (Rouen Universität) Dynamiques Sociolangagières (DYALANG) beschäftigit sich schon seit lange mit diesen Themen.



Download article