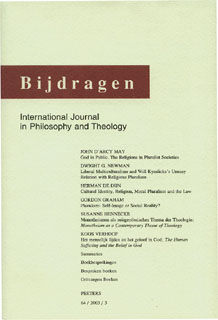 Document Details :

Title: L'affaire des Billettes
Subtitle: Une accusation de profanation d'hosties portée contre les Juifs à Paris, 1290 - An Accusation of Host Desacration by Jews in Paris, 1290
Author(s): DEHULLU, Joanie
Journal: Bijdragen
Volume: 56 Issue: 2 Date: 1995
Pages: 133-155
DOI: 10.2143/BIJ.56.2.2002455

Abstract :
The accusation of host desecration, generally known as the 'Affaire des Billettes', is one of the earliest, most important and most widespread examples of such accusations in the late Middle Ages. It might have started a veritable epidemic of such accusations throughout Europe. There are various literary sources as well as archive documents concerning this accusation. The literary sources of that time need to be submitted to a critical examination, in order to discover - if possible - the earliest form of the legend. The archive documents lead to Parisian events which took place in the reign of Philippe IV (1285-1314) and which could have provoked the accusation of host desecration and originated the legend. Contemporary literary sources show no uniformity; their only common point is an accusation of desecration of a lost host by 'the Jews', in Paris, about Easter 1289/1290. From a historical point of view these sources show that certainly before 1295 'the Jews' of Paris were accused of desecration of a host about Easter 1289/1290. The historical truth of the desecration as such can be demonstrated neither by the literary sources nor by the archive documents. The present article tries to demonstrate, by way of hypothesis, that differences concerning a financial transaction between a Jew and a Christian, of which the archives provide some indications, lay at the basis of the accusation.