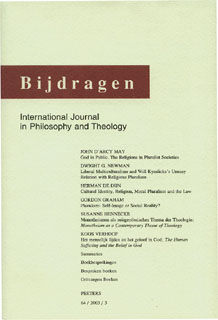 Document Details :

Title: Ecologische waardenoriëntaties - Ecological Value Orientations
Subtitle: Een filosofische en theologische benadering - A Philosophical and Theological Approach
Author(s): VAN DER TUIN, Leo
Journal: Bijdragen
Volume: 56 Issue: 4 Date: 1995
Pages: 387-428
DOI: 10.2143/BIJ.56.4.2002442

Abstract :
Binnen de ecologische discussie wordt een verscheidenheid aan argumenten gehanteerd. In deze bijdrage worden, langs filosofische en theologische weg, twee ecologische waardenoriëntaties gereconstrueerd, waarop de verschillende argumenten teruggaan. Het betreft een antropocentrische en een ecocentrische waardenoriëntatie.


---

In actual discussion about the problem of pollution of the ecological environment various arguments have been used. In environmental philosophy these arguments are arranged in two fundamental thinking orientations: anthropocentrism and ecocentrism. Anthropocentric thinking about nature and men's position is held responsible for the environmental crisis. In this article the author distinguishes within the antropocentric thinking form, between excluding and including anthropocentric thinking. It is the excluding form of anthropocentrism that is connected with environmental crisis. The difference between including anthropocentrism and ecocentrism lays in the valuation of nature: extrinsic vs. intrinsic value. The orientations are described by three basic concepts: the concept of man, the concept of nature and the concept of the standard of managing nature. In the second part of the article both orientations are described from the biblical-creation-theological point of view. There is the description focused on the concepts of God, 'imago Dei' and 'dominium terrae'. The question is to what degree these orientations are grounded in the Old Testament creation stories.