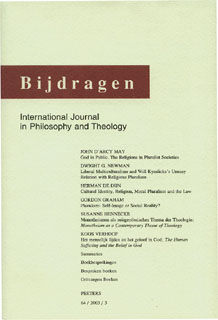 Document Details :

Title: De Katechismus van de Katholieke Kerk en het Jodendom
Subtitle: The Catechism of the Catholic Church and Judaism
Author(s): POORTHUIS, Marcel
Journal: Bijdragen
Volume: 57 Issue: 4 Date: 1996
Pages: 405-429
DOI: 10.2143/BIJ.57.4.2002412

Abstract :
A comparison between the Catechism of the Catholic Church (1993) and the Notes on the Correct Way to present the Jews and Judaism in Preaching in the Roman Catholic Church (1985) by the Vatican Commission for Religious Relations with the Jews, demonstrates the seriousness of the Cathechism's effort to take into account Jewish selfdefinition. Jesus' positive attitude to the Law, sabbath and Temple are rightly stressed. The Cathechism has not succeeded however in integrating these new insights into a coherent theology, which explains the occurrence of elements of the theology of substitution (Judaism replaced by the Church) next to affirmations of the lasting significance of Judaism within salvation history. Added to this there is a total lack of references to Judaism in history until today. The absence of the tragic events in the Middle Ages, of the persecution of the Jews, of anti-Judaism and antisemitism, of the Shoah and of the founding of the State of Israel, fosters the image of Judaism as no longer relevant after Biblical times. Earlier Vatican documents had stressed the importance of exactly these points for catechesis.
After the evaluation of the Catechism's contents the article continues with evaluating its form. Two important elements within the Jewish idea of permanent education seem to be lacking in the Catechism: the connection between religion and daily life and the emphasis on differences of opinion as a fruitful means of educating religion. The connection between religion and daily life is prevented by the Catechism's exclusively theological language. In addition to that the Catechism is meant primarily for bishops. The Catechism itself admits that further 'adaptation' is needed in order to develop a genuine catechism. The Catechism's rather dogmatic and apodictic style does not invite to further discussion and to fruitful debate. However, nothing prevents believing Catholics to read the Catechism that way and to enrich Catholic tradition by 'adapting' and debating its contents.