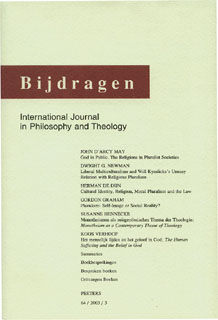 Document Details :

Title: Ezra 8
Subtitle: Op reis naar gemeenschap - On the Way to Community
Author(s): VAN GROL, Harm W.M.
Journal: Bijdragen
Volume: 57 Issue: 4 Date: 1996
Pages: 362-380
DOI: 10.2143/BIJ.57.4.2002410

Abstract :
This article starts from the observation that Ezra 8, the story of Ezra's journey from Babel to Jerusalem, does not live up to the expectation awakened by Ezra 7,1-10 that the story about Ezra will deal with Ezra's occupation with the law. Of course, Ezra 7,1-10 interpretes Ezra 8 by taking up its theme clause ('because of the hand of Yhwh my God was upon me': 7,28; 8,18.22.31) in 7,6.9: Ezra had a good journey because God helped him for his plan's sake to teach the law in Jerusalem (§ 4). But this is an external interpretation. Ezra 8 itself speaks another language. An analysis of the syntactical hierarchy (§§ 2 and 6.1) and the verbal repetitions (§ 6.2) shows that the story consists of a prologue (7,27-28a), an epilogue (8,33-36) and in between five scenes whicg form a concentric pattern: 7,28b-8,15c[A1].15d-20[B1].21-23[C].24-30[B2].31-32[A2] (§ 5). The two subthemes, (God's protection during) the journey to Jerusalem (A) and Ezra's care for the temple (B), are combined in the central scene (C): God protects this community because they search for him in praying and fasting and are on their way to the best place to do so: the temple in Jerusalem (§ 7). The last section (§ 8) reflects upon the contrasts between this internal point (community and cult) and the external point (law) and states that the redactor, responsable for 7,1-10, missed the opportunity to integrate his own perspective with that of the text before him, Ezra 8.