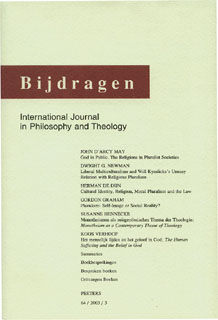 Document Details :

Title: De sirenenzang van de tradities - The Sirens' Song of the Traditions
Subtitle: Pleidooi voor een universele ethiek - A Plea for a Universal Ethics
Author(s): MERKS, Karl-Wilhelm
Journal: Bijdragen
Volume: 58 Issue: 2 Date: 1997
Pages: 122-143
DOI: 10.2143/BIJ.58.2.2002393

Abstract :
This contribution deals with the significance of Tradition for the question of the truth in ethics and morality. In a preliminary reflection the author discusses the traditional place of Tradition in moral theology. According to traditional theology, God's revelation is presented in Scripture and Tradition. The Second Vatican Council only reformulated the mode in which they are given. Thus, Tradition as a separate source side by side to Holy Scripture becomes the one entity of Tradition which encompasses Holy Scripture. But this does not relativize Tradition itself. On the contrary Tradition now comes first. In the so-called 'sources of moral theology' (fontes theologiae moralis) the element of Tradition also occupies an important place. Because of considerations of fundamental ethics however, Tradition no longer plays this role in important currents in modern moral theology. In the light of this, how do we judge the reassessment of Tradition and traditions by philosophical ethicists, philosophers of culture and theologians who join their ranks? The same question can be asked with regard to ethical models like narrative ethics and ethics of virtue, which equally underline the role of Tradition and traditions in ethics and morality, in so far as they are recommended to us as alternatives to Enlightenment thinking and to the idea of an 'autonomous' morality. So what is the authority of Tradition in morality? To what extent can Tradition legitimise morality? With the help of three questions, the author elaborates his answer:
1. Why is Tradition unable to provide a basis for morality? The answer is: because of the moral ambiguity of Tradition. Tradition can offer a wealth of moral experience, but can equally turn out to be a conglomerate of moral petrifaction. Therefore Tradition as such is absolutely no legitimising agency of moral truth.
2. Where can a measuring rod for the morality of Tradition be found? The answer is: properly speaking the human person himself is the measure of morality. This point is clarified by a reflection on the 'change of paradigm' of catholic moral theology which centres on the human person as a subject. This implies an anthropocentric turn in morality, an orientation on the subject which is not only a conditio sine qua non for an ethics which deserves that name, but also a basis and a criterion for a possible universal ethics. There is a universal standard, which can be applied to every particular ethics: the dignity of the human person. This standard is applicable to every human individual and must be expressed furthermore in conditions and guarantees which are necassary for really honouring that dignity (esp. human rights).
3. What moral significance of Tradition remains a universal ethics 'which has the human person as its measure'? The answer is: the moral significance of Tradition cannot be seen in a function of legitimising morality. Tradition is measured by ethics, but ethics is not measured by Tradition.
However, this is only one side of the coin. The other side concerns the fact that a universal ethics does not exist as such, but is incarnated every time by forms of ethos and ethics which are linked to a particular culture. In the last paragraph therefore there follows a reflection on the significance for moral life which Tradition can indeed have. The idea of traditions as concrete embodiment of moral universality is especially important here. Today, this theme is treated in a concentrated form with the help of the question of the universality of human rights and the significance of cultural identities in this context. The answer to this is unambiguous. Cultures and traditions must be judged on the basis of their capacity to guarantee the honouring of human dignity of every person, where necessary even against one's own culture and tradition.