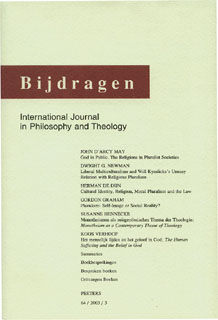 Document Details :

Title: Empirie, normativiteit en praktjk in praktisch-theologisch onderzoek
Subtitle: Empiricism, Normativity and Practice in Practical-Theological Investigation
Author(s): ZIEBERTZ, Hans-Georg
Journal: Bijdragen
Volume: 58 Issue: 3 Date: 1997
Pages: 301-319
DOI: 10.2143/BIJ.58.3.2002388

Abstract :
This contribution deals with an interpretation of practical theology which reckons amongst its tasks both an empirical situational analysis and a normative guide to action. We address the question to what extent it is possible for practical theology to fullfil both these tasks when, in the tradition of Weber's concept of scientific method, it wants to be descriptive above all, while applying at the same time methods that claim to be objective and value-free, i.e. that do not jump to conclusions about what should be on the basis of what is. In order to relate all this to practice, both the foundations of our theory and its initial formulation and evaluation need to be worked out and submitted to rational verification.