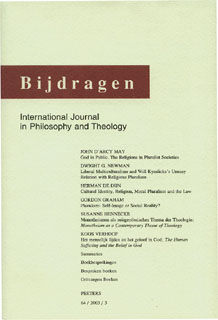 Document Details :

Title: Wat heeft God met de moraal te maken? - What Has God to Do with Morality?
Subtitle: De goddelijke gebodstheorie van de morele verplichting - The Divine Command Theory of Moral Obligation
Author(s): VAN DEN BELD, A.
Journal: Bijdragen
Volume: 58 Issue: 4 Date: 1997
Pages: 362-380
DOI: 10.2143/BIJ.58.4.2002376

Abstract :
The article deals with the classical idea that God's will is the foundation of moral obligation. The particular theory should be understood as a theory of a certain moral practice. Therefore, its 'Sitz im Leben' is first invoked by means of an episode of Walter Scott's The Heart of Midlothian. Then a strong version of the theory is stated and defended against a couple of current and classical objections. A successful defense would give rational support to the theory, but it would not qualify the theory as the best in the field. That depends on the quality of its rivals. One of those, Christine Korsgaard's recent impressive Kantian reflective endorsement view is discussed. The conclusion is that it does not provide stronger grounds for the reality and inescapability of (costly) moral obligations than the divine command theory.