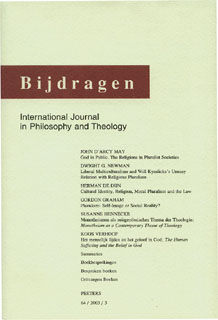 Document Details :

Title: Het aporetisch karakter van Eugen Drewermann's therapeutische theologie
Subtitle: The Aporetic Character of Drewermann's Therapeutic Theology
Author(s): GOORDEN, Constant
Journal: Bijdragen
Volume: 59 Issue: 3 Date: 1998
Pages: 267-290
DOI: 10.2143/BIJ.59.3.2002354

Abstract :
Drewermann himself typifies his whole literary theological activity as a therapy. Therefore, we may consider his therapeutic concern as the structural principle of this synthetic survey of his fundamental ideas. Therapy means deliverance from an evil situation. Throughout Drewermann's oeuvre this evil situation is being approached from a double standpoint. Now it is described as anxiety (Daseinsangst), then again as psychic imperfection of man who suppresses essential elements of his inner life in the unconscious. This two perspectives are at the origin of two distinctive trains of thought which run like a seam trough Drewermann's oeuvre. Either develops its own logic which leads to divergent standpoint with regard to religious fundamental convictions which do not lend themselves to one synthesis.
The vision on God as deliverer from anxiety (especially found in the 'Struktur des Bösen') maintains the fundamental ideas of traditional Christian theology like the belief in a transcendent personal God and in the unique role of Christ in the mystery of salvation. Typical of this vision is also the pessimistic outlook on man's natural existence as they are made explicit in the myths of the Jahwistic primitive history. Mythology is to be surpassed by theology. In contrast, archetypal hermeneutics are in the service of man's perfection, and have totally different, even opposite, theological implication with regard to the essence of man and his relationship with God. Obviously, hermeneutics are based on an optimistic view of man's natural existence as it is made explicit in the archetypes. At the same time this perspective calls God's transcendence into question. We find many statements that point to a coincidence of 'Gottfindung' and 'Selbstfindung', Christ's unique role in the mystery of salvation according to traditional theology runs the risk to get lost. Christ is reduced to one of the many possible phenomena of a generally human retigion which comes to light in the archetypes.
Confronted with these fundamental problems, Drewermann claims that Bible reading in the line of depth psychology (archetypal hermeneutics) must be surpassed by theological explanation. The concomitant emphasis on shortcomings, even aberrations which the interpretation of depth psychology exposes leads Drewermann's line of thought into insoluble aporia. In the healing process as a coming to perfection of fragmented man, the archetypes are considered as components of a human psyche (nature), good as such, which have to be integrated with conscious life. In man's striving for deliverance from existential anxiety (Daseinsangst), the myths and archetypes are seen as a description of an inherently disastrous human existence labouring under anxiety. Thus, the interpretation of Drewermann's theology is faced with an apparently insoluble contradiction: on the one hand, the archetypal dream of mankind is the 'language of God'; on the other, Drewermann takes the 'overcoming of the myths' the starting point of his theology. What comes to light about the relationship between God and man in both the interpretations in depth psychology and in theology runs not not only directly ('unvermittelt') parallel, but the theological interpretation gives a verdict on the 'archetypal hermeneutics' which Drewermann's new contribution to theology wants to be and to which the bulk of his oeuvre is devoted.