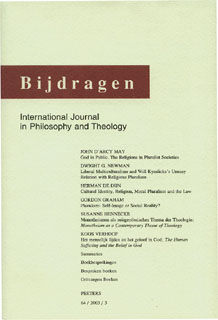 Document Details :

Title: De taak van de godsdienstfilosofie
Subtitle: The Task of the Philosophy of Religion
Author(s): VAN HERCK, Walter
Journal: Bijdragen
Volume: 59 Issue: 4 Date: 1998
Pages: 428-452
DOI: 10.2143/BIJ.59.4.2002349

Abstract :
Four paradigmatic views on the task of the philosophy of religion are presented. The first (philosophy of religion as an integral part of a religious practice) is elaborated by a close reading of the first article (De sacra doctrina) of St. Thomas' Summa Theol. The second paradigm (philosophy of religion as an elaboration of natural religion) is discussed by considering the ambitions of deism (Tindal, Toland, Voltaire and Reimarus). The transition to the third paradigm (philosophy of religion as the pathology of religion) is made by contrasting two works of David Hume. His Dialogues concerning Natural Religion fight the deistic idea of a natural religion on its own terms. His Natural History of Religion steers an altogether different course by seeking to uncover the origins of religion in human nature. The fourth paradigm (philosophy of religion as description) is illustrated by the neo-wittgensteinian tradition in the philosophy of religion. The rather objective grammatical inquiry of religious concepts that this tradition stands for, turns out – unexpectedly – to reconcile people to religion.