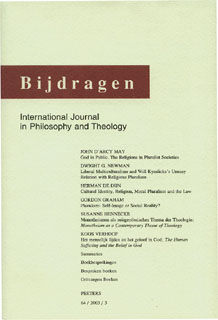 Document Details :

Title: The Challenge of Unity
Subtitle: Johann Sebastian Drey and Johann Adam Möhler and the Soteriological Impact of their Theology
Author(s): SCHREURS, Nico
Journal: Bijdragen
Volume: 60 Issue: 1 Date: 1999
Pages: 77-92
DOI: 10.2143/BIJ.60.1.2002342

Abstract :
In this article, soteriology is understood as the theological reflection on the movement towards unity and reunion. In this specific sense, the theologies of J.S. Drey und J.A. Möhler, two important representatives of the early Catholic Tübinger School, have a clearly distinctive soteriological impact. This drive for unity, however, which is common to both Drey and Möhler, does not have the same origin. Whereas Möhler, not withstanding his support for Church reforms in his early days, increasingly chose to favour Romanticism and Restoration, Drey received his inspiration mainly from the specific form Enlightenment took on in Austria and South Germany: the Catholic Aufklärung. The article, taking advantage of recent publications, tries to reveal how the Catholic Aufklärung influenced Drey's theology of salvation. It is shown that the leading reformer of Catholic theological studies, Rautenstrauch, opposed the fruitless speculation in Barockscholasticism and favoured historical and biblical studies instead. Next to this interest for history, there was a tendency among early Aufklärungstheologians to stress the coherence of the dogmatic subjects. This systematic interest was met by theologians like B. Galura and F. Brenner, who took as the centre of their dogmatics the biblical theme of the Realm of God (Reich Gottes). History, system, and Reich Gottes are precisely the roots of Drey's theology; they gave him the tools to arrive at his theology of salvation, conceived as a theology of reunion and unity. Taking Drey and Möhler together again, the author concludes by stating that the unity-theme of the early Catholic Theological School may stimulate modern and post-modern theology to take the soteriological impact of theology seriously.