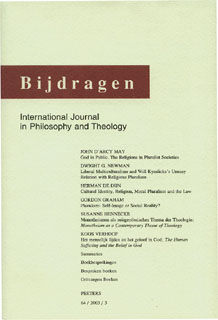 Document Details :

Title: Wittgenstein and the Anselmian Project
Author(s): BRÜMMER, Vincent
Journal: Bijdragen
Volume: 60 Issue: 4 Date: 1999
Pages: 436-455
DOI: 10.2143/BIJ.60.4.2002298

Abstract :
Vincent Brümmer distinguishes in this article between three types of theology. While 'revealed theology' tends to lead into fideism and isolationism, 'natural theology' is in danger of decontextualising religious belief. Trying to steer a middle course Brümmers sets out to demonstrate that a Wittgensteinian 'philosophical theology' can be characterised by means of the Anselmian dictum "faith seeking understanding". Faith is seen as a form of life; religious doctrine as a language game, and "God exists" as a tacit presupposition constitutive of the religious form of life. This is not a fideistic project; neither does it make communication with religious outsiders impossible. Brümmer parts company with D.Z. Phillips when the latter propounds a non-realistic interpretation of the aforementioned tacit presupposition. Philosophical theology should demonstrate the coherence, intelligibility, credibility, relevance and adequacy of religious conceptualisations. Moreover, philosophical theology should fuffill an innovative role.