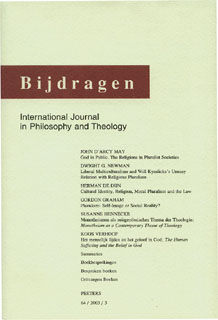 Document Details :

Title: Witggenstein en de godsdienstfilosofie
Subtitle: Wittgenstein and the Philosophy of Religion
Author(s): MUHALL, Stephen
Journal: Bijdragen
Volume: 60 Issue: 4 Date: 1999
Pages: 393-418
DOI: 10.2143/BIJ.60.4.2002296

Abstract :
The author wishes to understand the simultaneousness of the influence excerted and the irritation aroused by Wittgenstein's philosophy of religion. In his first section he states that Wittgenstein's thinking in this domain comes down to the following central idea: religious belief differs strongly from empirical convictions. From the fact that this central idea was already defended by Kierkegaard and seems to enjoy a respectable status in academical circles, arises the question why Wittgenstein's presentation of it evokes such vehement reactions. Sec. 2 therefore focusses on defects in the interpretation of Wittgenstein by his advocates and opponents. Is religion, according to Wittgenstein, immune against criticism? And: Doesn't a descriptive philosophy of religion contain some prescriptive elements? Mulhall's affirmative answer to the last question gives him the surmise that the ties between the Wittgensteinian practice of philosophy and religious practices are stronger than may appear at first glance. Sec. 3 sees in both these practices a kind of remedies for those situations in which human beings find it difficult to accept their finitude (be it the limits of our language or – in the religious case – our sinful nature).