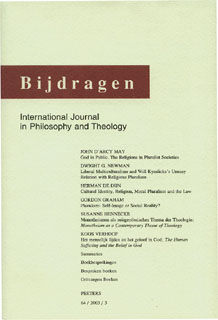 Document Details :

Title: Religious Epistemology, Rationality and Trust
Subtitle: An Introduction
Author(s): CORTOIS, Paul , VAN HERCK, Walter
Journal: Bijdragen
Volume: 60 Issue: 4 Date: 1999
Pages: 373-379
DOI: 10.2143/BIJ.60.4.2002294

Abstract :
We are happy to present the proceedings of the international symposium on Rationality and Religious Trust which were held at the University of Antwerp (UFSIA – 29th of May 1999) in this volume of Bijdragen. Rationality and religious trust is of course a topic that falls within the scope of the epistemology of religion. Contemporary epistemology of religion has been the scene of a vigorous debate about the nature of religious belief, or more precisely about the role of rationality and rational argument with respect to religious belief. What is at stake in the debate, is the very way the concept of belief applies to the religious life. More specifically, the issue is about the place to be reserved for belief (and for determinate beliefs) within the religious life at large, and again, about the role (to be) played especially by rational arguments in holding or not holding those beliefs.