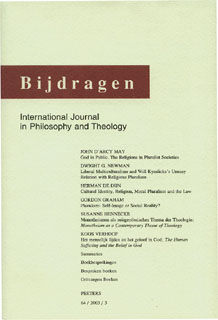 Document Details :

Title: Hamanns metakritiek en de bronnen van de Angelsaksische cultuurfilosofie
Subtitle: Hamanns Metacriticism and the Sources of Anglo-Saxon Philosophy of Culture
Author(s): VANHEESWIJCK, Guido
Journal: Bijdragen
Volume: 66 Issue: 3 Date: 2005
Pages: 272-300
DOI: 10.2143/BIJ.66.3.2002069

Abstract :
Emphasising the cultural, historical and sociological aspects of reason – aspects that were not considered neither by Kant nor by Garve – in his Metakritik über den Purismum der Vernunft (Metacritique on the Purism of Reason), Johann Georg Hamann has not only become the 'founding father' of the romantic Sturm und Drang(Storm and Stress). He has inaugurated a specific kind of criticism as well that will gradually leave its mark upon the philosophical scene from the end of the nineteenth century up till now. In this article, I would like to focus upon the influence that was exerted by Hamann's metacritique on the Anglo-Saxon philosophy of culture, as it becomes obvious in the work of, among others, R.G. Collingwood, Isaiah Berlin and Charles Taylor.